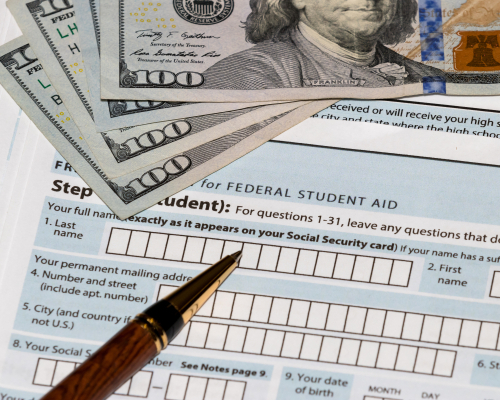 Featured Programs
For decades, part of the college application process has been paying a non-refundable fee. The fee is designed to cover the costs of processing and reviewing candidates' application materials. According to the U.S. News, the average application fee is $41. Yet application fees can range from $20 up to $90 at prestigious universities like Stanford. College-bound hopefuls can spend hundreds to thousands in application fees applying to multiple schools where acceptance isn't guaranteed. As worries over America's $1.3 trillion student loan debt mount, more colleges are making changes for a fee-free application policy. In this article, we'll review why post-secondary schools are dropping or entirely eliminating application fees and how you can benefit.
Expanding Equal Access to College Admission
Cutting application fees is a significant loss of revenue, but many university officials across the United States view the policy shift as a favorable investment. Reducing or eliminating these fees can help expand the number of qualified students applying. That's because a significant number of high-achieving high school seniors from poor families have been discouraged by fees. One survey from the Low Income Housing Authority found that up to 25 percent of low-income students didn't apply for higher education despite good grades. Dropping the application fee helps eradicate monetary barriers and prioritize equality in college admission. Schools who forgo fees can attract more low-income, first-generation, and immigrant students who will benefit from financial aid and contribute to the academic community.
Excellent Colleges Removing the Application Fee
Several institutions have made national news by saving students the added stress of application fees. In 2014, the University of Maine at Farmington became the system's first campus to completely eradicate its $40 fee. Reed College, a selective liberal arts school, joined the movement by cutting its $50 application fee. Since the 2013 decision, Reed announced that received applications have increased by a whopping 40 percent. In September 2016, Bowdoin College followed the pattern by automatically eliminating application fees for students applying for need-based aid. Mayor Bill de Blasio also abolished the $65 CUNY application fee for New York City students receiving reduce-priced lunch. Other top-notch colleges without an undergrad application fee include:
• Carleton College: Northfield, MN
• Colby College: Waterville, ME
• Grinnell College: Grinnell, IA
• Smith College: Northampton, MA
• Tulane University: New Orleans, LA
• Case Western Reserve University: Cleveland, OH
• Trinity University: San Antonio, TX
• Illinois Wesleyan University: Bloomington, IL
• Marquette University: Milwaukee, WI
• Augustana University: Sioux Falls, SD
• Florida Institute of Technology: Melbourne, FL
Other Ways to Apply to College for Free
Are your prospective school favorites still charging an application fee? Don't sweat it because there are potential loopholes. Web-savvy students who apply online rather than by mail can eliminate incurred fees at schools like Millikin University. Having connections could help cut fees. For instance, Western New England University gives free applications to parents and grandparents of alumni. Another option is to physically travel to the college's campus. At McDaniel College, official campus visits leave attendees with the prize of a free application. Financially needy students can also file waiver requests through the National Association of College Admission Counseling (NACAC). If you've already taken the SAT exam with a fee waiver, you automatically qualify!
Everyone knows that college tuition comes with a hefty price tag. According to the College Board, the average published undergraduate tuition is $9,650 at public and $33,480 at private four-year institutions annually. Tuition rose approximately 2.4 percent from 2015 to 2016. But costs can begin accruing well before students reach the college classroom. Application fees are cumbersome expenses that are commonly charged to each potential new freshman or transfer. Fortunately, desire to improve equal access for students from diverse, low-income backgrounds is giving colleges momentum to make applications more affordable.
Related Link
The Top 15 Accredited Online Colleges Without An Application Fee