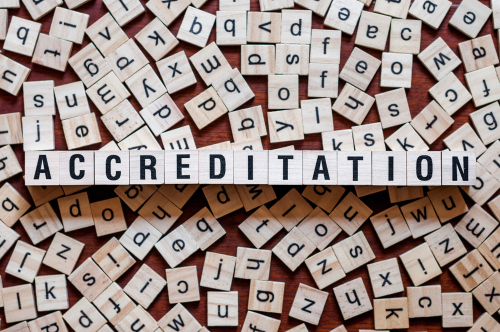 Featured Programs
A regional accreditation is not the same as a national accreditation for an important reason: the difference is that credits earned at a regionally accredited institution are more widely accepted. Credits earned in college are like money in the bank, and students who make enough regular deposits by taking courses compile sufficient credits to earn a degree. At graduation time, students do the equivalent of cashing them in for a diploma. Online college students need to consider the impact that accreditation has on their degree.
Understanding the Differences
As the name implies, regional accrediting organizations operate in specific areas of the country. They grant accreditation for all of a college's instructional sites, including online programs and distance learning options. Regional accreditation bodies accredit a diverse range of schools that offer any or all of these degrees:
• Associate
• Baccalaureate
• Masters
• Doctoral
National accreditation organizations usually accredit schools that focus on career or religious education.
See Also: Top 30 Accredited Online Accounting College Degree Programs
Planning Ahead to Transfer Credits
Changes in plans or circumstances often make it impossible for students to graduate from the same school where they started. Transferring earned credits to another institution is easier if they were granted by a regional accreditation organization. Thinking of the credit transfer process in terms of money helps to understand the difference between the negotiability of the two kinds of accreditation. Regionally accredited colleges usually accept credits from other schools that hold similar credentials. Schools that have a national accreditation usually accept credits only from other institutions in their network.
The money illustration is helpful, because some types of currency are not as negotiable as others. In America, the dollar is the standard form of currency for trade, and it is accepted everywhere. To spend Chinese yen or Indian rupees in the United States, a person has to go to stores that accept them. Credits from a regionally accredited institution are acceptable by many more colleges than those from a nationally accredited school. Online students are often dismayed to learn that credits are not transferable and that repeating some courses is necessary when changing schools.
Examining a School's Accreditation
Qualifying for regional accreditation is a rigorous process that schools work hard to earn. The U.S. Department of Education recognizes seven regional accrediting bodies that uphold the standards of the Council for Higher Education Accreditation:
Middle States Commission on Higher Education (MSCHE)
Schools in New York, Delaware, Maryland, Pennsylvania, the District of Columbia, Puerto Rico and the Virgin Islands are accredited by MSCHE.
New England Association of Schools and Colleges
Commission on Institution of Higher Education (NEASC-CHE)
Schools in Rhode Island, Maine, New Hampshire, Vermont, Connecticut and Massachusetts are accredited by NEASC-CHE.
North Central Association of Colleges and Schools
The Higher Learning Commission (NCA-HLC)
Schools in Wyoming, Arizona, North Dakota, West Virginia, Missouri, Ohio, Indiana, Arkansas, Colorado, Iowa, New Mexico, South Dakota, Wisconsin, Nebraska, Illinois, Minnesota, Oklahoma, Michigan and Kansas are accredited by NCA-HLC.
Southern Association of Colleges and Schools (SACS)
Commission on Colleges
Schools in Florida, Texas, Louisiana, North Carolina, Tennessee, Alabama, Kentucky, Georgia, Virginia, Mississippi and South Carolina are accredited by SACS.
Western Association of Schools and Colleges
Accrediting Commission for Community and Junior Colleges (ACCJC-WASC)
Schools in California and Hawaii in addition to those in American Samoa, the Territories of Guam, the Republic of Palau, the Commonwealth of the Northern Mariana Islands, the Republic of the Marshall Islands, and the Federated States of Micronesia are accredited by ACCJC-WASC.
To avoid disappointment later, students planning to attend an online college need to inquire about its accreditation prior to making a decision about enrollment.