Share this infographic on your site!
Fred McFeely Rogers was a reassuring voice to millions of children for over 45 years. He helped children to cope through difficult situations and taught them to embrace a world of wonder.
"The more you learn, the better feeling you have about yourself and the world we live in."
The Neighborhood
● Mister Rogers' Neighborhood ran from 1968 – 2001
○ Total of 1765 episodes
○ 206 songs sung
○ 162 characters
○ 113 cast & crew members
○ 55 episode topics
● Mister Rogers voiced all the puppets, wrote all the scripts
● 1980's: Michael Keaton (Beetlejuice and Batman) operated the neighborhood trolley
○ The trolley traveled about 5,000 miles per season
● All the sweaters Mister Rogers wore were hand knitted by his mother
● Mister Rogers always tried to state out loud when he was feeding his fish
○ a blind girl was worried about the fish and couldn't otherwise tell they were getting fed
● Buildings and structures that made up the land of make-believe
○ The Eiffel Tower
○ the Castle
○ the Factory
○ the Tree
○ the Museum-Go-Round
○ the Platypus House
○ the Clock Tower
The Man
● Fred McFeely Rogers 1928 – 2003
● Born in Latrobe, PA
● 1962: became an ordained Presbyterian Minister
● 1968: served a chairman of a White House forum for child development and mass media
● 1969: Fred Rogers spoke before the US Senate
○ Noted that his budget per episode was $6k (would pay for about two minutes of cartoons at the time)
○ Gave a mind-blowing talk about kindness
○ Afterward, Congress raised PBS funding from 9 million to 21 million
● 1984: the Smithsonian Institute put one of Mr. Rogers' sweaters on exhibit
● Earned four daytime Emmys
● 1997: Earned a Lifetime Achievement Award from National Academy of Television Arts and Sciences
● 1999: Inducted into the Television Hall of Fame
● 2002: received the Presidential Medal of Freedom (highest civilian honor)
● 2002: Mister Rogers was diagnosed with stomach cancer
● Thieves once stole Mister Rogers' car
○ Once they realized it was his, they returned it with an apology note
From our favorite neighbor:
"In times of stress, the best thing we can do for each other is to listen with our ears and our hearts and to be assured that our questions are just as important as our answers."
● Did You Know? (1979)
○ appeared in 12 episodes
○ Did you know that it's all right to marvel? 
There are all kinds of marvelous things! 
You can ask a lot of questions about the world…
And your place in it
● Everybody's Shy Sometimes (1990)
○ appeared in 1 episode
○ Did you ever feel so shy you wondered why
You wondered why you didn't cry, you just felt shy 
Everyone feels shy sometimes
"The world needs a sense of worth and it will achieve it only by its people feeling that they are worthwhile."
● You're Much More (1989)
○ Used in 3 episodes
○ You're much more than your anger
, Much much more than your mind
, When they put you all together, 
You're a beautiful, marvelous, spirited, lovely
, Wonderful one of a kind
○ Children Can (1969)
■ Used in 14 episodes
■ Who can play very much longer, 
Play much harder than grownups ever dare? 
You're a child so you can do it. 
You can do it anywhere.
"I like you, just the way you are."
● Mister Rogers closed 1765 episodes telling children:
○ "You've made this day a special day, by just your being you."
● It's You I Like (1971)
○ Used in 46 episodes
○ But it's you I like
, The way you are right now, 
The way down deep inside you
, Not the things that hide you
● You Are Special (1968)
○ Used in 66 episodes
○ You're special to me
. There's only one in this wonderful world
. You are special
● Everybody's Fancy (1967)
○ used in 44 episodes
○ Some are fancy on the outside. 
Some are fancy on the inside
. Everybody's fancy. 
Everybody's fine. 
Your body's fancy and so is mine.
"There's a part of all of us that longs to know that even what's weakest about us can ultimately count for something good."
● Sometimes I Wonder if I'm a Mistake (1987)
○ Used in 1 episode
○ Often I wonder if I'm a mistake, 
I'm not supposed to be scared am I? 
Sometimes I cry and sometimes I shake
, Wondering isn't it true that the strong never break?
● The Clown in Me (1968)
○ Used in 10 episodes
○ So I pretend I'm someone else
 and show the world my other self.
I'm not quite sure of me you see, 
When I make a clown of me.
"Let's make the most of this beautiful day…"
● Won't You Be My Neighbor? (1967)
○ Used in 1765 episodes)
○ Won't you please
..Please won't you be… 
Please won't you be my neighbor
"Hello neighbor" 🙂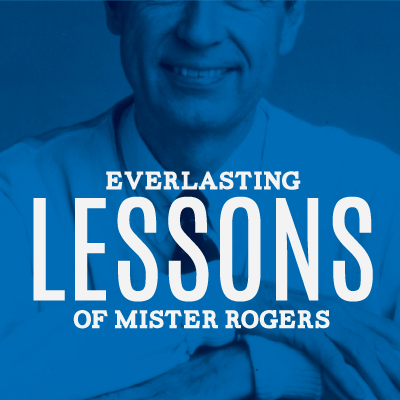 Sources:
http://www.educationworld.com/a_curr/profdev016.shtml
http://www.neighborhoodarchive.com/index.html
http://pbskids.org/rogers//all_ages/thoughts3.html
http://www.funtrivia.com/en/subtopics/Mr-Rogers-The-Man-The-Myth-The-Sweater-201687.html
http://www.biography.com/people/fred-rogers-9462161?page=2