When thinking about a free education, there are many questions that arise:
Are there tuition-free colleges?
Can I get a college education for free?
Is free community college my best option?
What are work college options?
Can financial aid cover the entire cost of my education?
It's natural to have lots of questions, especially when college is so expensive!
If you want to learn about free education programs, but aren't sure what your options are, this guide will help. Tuition and fees can be overwhelming, but with the details outlined below, you'll learn some valuable tips on getting an education for free.
The Growing Cost of an Education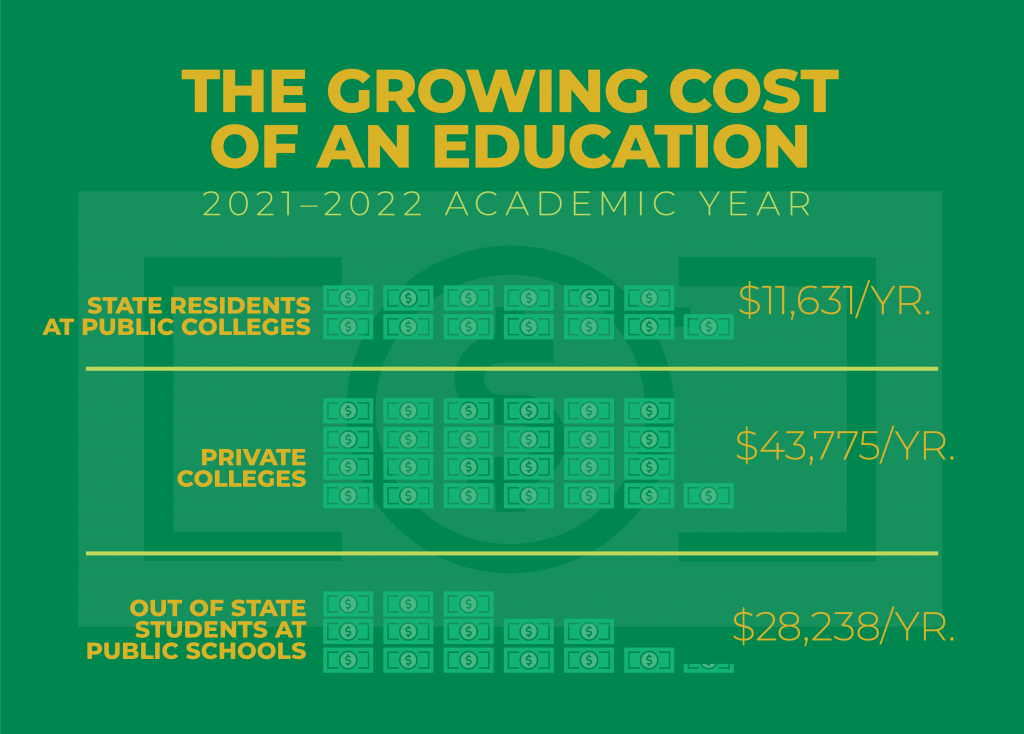 During the 2018–19 academic year, the average tuition for undergraduates including fees, room and board, and books was estimated to be $18,383 at public institutions. That figure was far higher at private, non-profit schools at $47,419. It cost an average of $27,040 at private for-profit institutions.
Tuition and fees can be high even at smaller schools. For example, according to the Education Data Initiative, the average annual total cost of attending a two-year community college is $10,300. A private two-year college is even more expensive at $15,100. For comparison's sake, the total annual cost for a community college education in 2000-2001 was $4,600.
Many students choose to attend in-state four-year public universities to take advantage of lower tuition rates. However, in-state schools can also be expensive.
According to U.S. News & World Report, the average annual cost of tuition and fees at a public in-state four-year university is $10,338. If you attend a public out-of-state university, that figure jumps to $22,698. A private four-year university is even more expensive at $38,185 for tuition and fees.
So, college is getting more and more expensive, so you might be wondering, "How can I go to school for free?"
Unfortunately, not everyone has a college fund to pay for school. And for many students, taking out tens of thousands of dollars in student loans isn't a favorable option.
Fortunately, there are plenty of ways to continue your education and go to college …without the price tag.
See also: Top 25 Accredited Free Classes Available Online
Free Application for Federal Student Aid (FAFSA)
The first step in pursuing a free college education is completing the Free Application for Federal Student Aid, or FAFSA.
This lengthy document is required for many types of federal aid, including grants, which do not have to be repaid.
Additionally, many states use the information from your FAFSA to determine if you're eligible for state-based aid (which is discussed in the next section). Individual colleges and universities also use the information you provide on your FAFSA for matching you with potential sources of financial aid.
Completing the FAFSA takes some time, but it's free and available online, making it as easy as possible to find funding sources for college. The FAFSA is required for online education and traditional on-campus programs.
It's important to note that schools, states, and federal agencies set deadlines for having your FAFSA completed. Be sure you check with the schools in which you're interested and your state to determine when those deadlines occur. Check with the StudentAid.gov to find out when federal deadlines occur as well.
The FAFSA process is an ongoing one, which is another important detail to understand. You must renew your application each academic year to reflect any changes in your financial situation. This can help identify new sources of college funding with each new academic year.
State-Based Free Education Programs
As noted above, the FAFSA isn't just for federal student aid. Most states also use the FAFSA information you provide to identify possible state-based aid programs to finance your education.
Each state has different aid available for college students, so you'll need to check the financial aid programs in your state. But, while there are differences in the specific programs from one state to the next, you can find grants and scholarships in every state.
Like federal financial aid, state-based aid comes with certain restrictions. For example, some grants and scholarships are provided to students that meet strict income requirements. That is, you have to make less than a specified amount to qualify.
Again, it's important to thoroughly research what aid opportunities are available to you, and what the qualification requirements are for each award.
Free Tuition Program
Are you looking for free tuition programs? Some states offer programs where you can go to college for free through community colleges or state colleges and universities.
Students must meet certain qualifications to be eligible. Once eligibility is determined, you must apply for the programs. Some are on a first-come first-served basis, so get started in your financial aid search early, that way you don't miss out on any funding opportunities.
For more details, check out these state programs for free college. This is not a complete list, so if you don't see your state listed, further research might reveal additional opportunities for free college:
Arkansas- Arkansas Future Grant
California- The California Promise Program
Delaware- Delaware Technical Community College Seed Program
Hawaii- Hawaii Promise Program
Indiana- 21st Century Scholar
Kentucky- Work Ready Kentucky Scholarship Program
Maryland- Community College Promise Scholarship
Missouri- A+ Scholarship Program
Montana- Montana University System Scholarships, Grants, and Waivers
New York- The Excelsior Scholarship
Nevada- Nevada Promise Scholarship
Oklahoma- Oklahoma's Promise
Oregon- The Oregon Promise Grant
Rhode Island- Rhode Island Promise
Tennessee- Tennessee Promise
Washington- Washington College Bound
West Virginia- West Virginia Invests
Wyoming- University of Wyoming Scholarship Opportunities
How to Get a Free College Education: Tuition-Free Schools
While it might sound too good to be true, some schools offer free tuition to certain students.
This is not a common practice, by any means. But, free college tuition is becoming more and more prevalent. In fact, nearly 30 states have some level of free college for their residents. This includes several states that have free college with very few eligibility requirements:
Oregon
Nevada
New Mexico
Tennessee
Michigan
Maryland
Deleware
Rhode Island
Nearly two-dozen other states offer tuition-free college with certain restrictions. The most common restrictions pertain to income and merit. Other restrictions pertain to residency and the program in which you're interested.
There are specific colleges and universities that offer free tuition to certain students as well. In most cases, free tuition is limited to students that live on campus. However, you might also learn how to get a free education online by exploring the options below.
Looking for free education?
Alice Lloyd College
If you live within the service area, Alice Lloyd College offers free tuition through the Appalachian Leaders Scholarship. You don't have to take federal student loans because tuition and fees are free. Save tens of thousands and apply if you qualify!
The Apprentice School
The Apprentice School focuses on shipbuilding trades. Students pay no tuition. In fact, as a student, you'll earn an hourly wage at a full-time job provided by the school. Apprenticeships last four to five years, and at the end, you receive a certificate.
Barclay College
At Barclay College in Kansas, you'll get free tuition if you live on campus. You're responsible for fees, room and board, and other expenses, but additional scholarships or grants can help defray those costs.
Berea College
If you have financial need and your family income does not allow you to pay for school, Berea College may be for you! You receive full tuition for free if you qualify. This school does not charge tuition.
College of the Ozarks
Located in Missouri, College of the Ozarks offers free tuition for students with full-time enrollment. You're required to work 15 hours a week. Additionally, you must work two 40-hour weeks during the school year.
Curtis Institute of Music
Students receive free tuition from Curtis Institute of Music on a merit basis. The school offers living costs and living expenses based on need. More information can be found here.
The University of New Hampshire
The University of New Hampshire's Granite Guarantee Program offers free tuition for up to four years of study. To be eligible, you must be a resident of New Hampshire. You must also study full-time and be eligible for Pell Grants. The program is available to junior college transfers as well. If you complete two years of study in the Community College System of New Hampshire and immediately transfer to the University of New Hampshire, you'll qualify for two years of free tuition.
Warren Wilson College
Warren Wilson College, which is in North Carolina, offers a tuition waiver to in-state residents. To qualify, you must meet criteria for need-based aid. You must also be a first-time college student and attend school full-time. In exchange, you must work 8-16 hours per week.
Webb Institute
You can get free college tuition if you do a double major in naval architecture and marine engineering at Webb Institute. More details for Webb Institute learners can be found here.
West Point
At the United States Military Academy, students do not pay tuition. Find out more details here. This four-year program develops leaders and provides them with a lifetime of success. There is not even a financial aid office because everyone attends with free tuition. Free tuition is also available at:
Other Ways to Save Money on College
If you're having trouble finding a college or university that fits your needs and offers free tuition, there are many other ways you can reduce the cost of your education.
As noted earlier, there are local, state, federal, and school-based scholarships and grants, neither of which have to be paid back. Filling out the FAFSA is your first step in finding these sources of funding. But, your work isn't done there.
You want to cast as wide a net as possible when looking for scholarships and grants. This means spending a lot of time and energy conducting research, identifying which scholarships and grants for which you apply, and submitting your application materials for those programs.
There are two good rules of thumb when applying for scholarships and grants. First, apply for as many programs as possible. Second, apply for scholarships and grants even if you don't quite meet all of the criteria.
You don't want to waste your time applying for programs that have strict requirements (e.g., residency or a minimum GPA) that you definitely don't meet. For example, if you live in Florida, there's no point in applying for a scholarship that's only for residents of Ohio.
But, there are plenty of scholarship programs that have less restrictions on who qualifies. For example, a scholarship might be designed for first-year students only, but might also consider second-year students. If you're a second-year student, it's worth a shot to apply!
Another option is to take as many Advanced Placement (AP), International Baccalaureate (IB), or Dual-Credit courses in high school as you can.
AP and IB courses require college-level work, and will often count towards fulfilling graduation requirements at most colleges and universities. Depending on the classes offered at your high school, you could conceivably graduate with a semester's worth (or more) of college credit.
The same is true of dual-credit programs. Many high schools offer on-campus classes that count for high school credit and college credit as well, usually through a local community college. Students across the country use these programs to their advantage to graduate high school with one, two, or more semesters worth of college courses already completed. In fact, some high schoolers are able to graduate from high school with an associate's degree in hand as well!
The advantage of dual-credit courses is that you earn actual college credit from an accredited institution. These credits are more likely to be accepted by colleges and universities than AP and IB courses. This isn't to say that AP and IB courses aren't widely accepted for college credit. But the process might be more common and go more smoothly with dual-credit classes.
Other options for offsetting the cost of college include:
Apprentice programs
Work programs
GI bill covers education costs for Veterans
In the case of apprentice programs and work programs, you can get a tuition waiver, learn a trade, and be employed, all while you go to college. When you complete programs like these, you get valuable on-the-job experience that allows you to be immediately employable upon graduation.
Of course, the GI Bill is a great way for those that have served in the military to pay for college and transition into civilian life after completing their tour.
How to Go to School for Free: Find Specialty Scholarships
Yet another avenue for going to college for free is to find scholarships for specific situations.
For example, there are scholarships for military and ex military students. You can find scholarships for visually impaired students as well. If you have ADHD, there's scholarships for you, too. And that's just the start!
Below is a list of just some of the types of specialty scholarships that might be available to you:
First-time college students
Single mothers
First-generation Americans
Low-income students
Students in rural areas
Students in urban areas
Transfer students
International students
Students that were adopted
Students of certain ethnicities
LGBTQ+ students
Athletic scholarships
Academic scholarships
Religious-based scholarships
Students with disabilities
Additionally, you can find scholarships for students of a certain age, students with a certain major, and students that work for a particular company. There are scholarships for students taking part-time credit hours and full-time credit hours as well.
These types of opportunities are also available in the form of grants, work-study programs, waivers, and other aid packages that don't have to be paid back.
How to Start in the Education System Without Breaking the Bank
While a degree can take you places, it's not a possibility for everyone to pay for one. There are plenty of ways, however, to continue an education without breaking the bank and taking out many federal loans.
As noted earlier, the key to a free college education is to do your due diligence. The more time you spend researching things like "education free" and "go to school for free," the more likely you are to find programs for which you qualify.
If you're a high school student, visit with your guidance counselor to get advice on how to search for free colleges and financial aid. If you're already in college and want to lower the cost of your education, visit with the student financial aid office on campus. In either case, these sources will prove extremely valuable in your quest to get a higher education for free.
See also: Top Accredited Online Colleges Without an Application Fee