Share this infographic on your site!
Understanding Accreditation
Perhaps the worst present day educational scam is an unaccredited institution that leaves students in tons of debt. Here's how to understand accreditation, and know what you're getting with your education.
What is Accreditation?
Accreditation is a quality assurance procedure that makes sure institutions meet acceptable levels of quality.
Criteria:
Criterion One. Mission
The institution's mission guides operations. The mission is clear and publicly articulated.
Criterion Two. Integrity
The institution acts with integrity; its conduct is ethical and responsible.
Criterion Three. Teaching and Learning: Quality, Resources, and Support
No matter where or how education is offered, this institution provides quality education.
Criterion Four. Teaching and Learning: Evaluation and Improvement
This institution evaluates the effectiveness of its learning processes, and supports continuous improvement.
Criterion Five. Resources, Planning, and Institutional Effectiveness
This institution plans for the future, and has the resources and processes to fulfill its mission and improve.
Who Accredits?

Regional, National, and Program Accreditors:
Regional: Regional accreditations accredit entire institutions.
National: National accreditations accredit entire institutions, particularly institutions that operate in more than 1 state.
Programmatic: Programmatic accreditation accredits select programs from institutions.
Most traditional colleges are accredited under regional accrediting bodies.
Middle State Association of Colleges and Schools — Delaware, Pennsylvania, D.C., Maryland, New Jersey, New York, Puerto Rico, U.S. Virgin Islands
–527 institutions
New England Association of Schools and Colleges — Connecticut, Maine, Massachusetts, New Hampshire, Rhode Island, Vermont
–237 Institutions
Northwest Commission of Colleges and Universities — Alaska, Idaho, Montana, Nevada, Oregon, Utah, Washington
–163 institutions
North Central Association of Colleges and Schools — Arkansas, Arizona, Colorado, Illinois, Indiana, Iowa, Kansas, Michigan, Minnesota, Missouri, Nebraska, New Mexico, North Dakota, Ohio, Oklahoma, South Dakota, West Virginia, Wisconsin, Wyoming
–1336 Institutions
Southern Association of Colleges and Schools — Alabama, Florida, Georgia, Kentucky, Louisiana, Mississippi, North Carolina, South Carolina, Tennessee, Texas, Virginia
–822 Institutions
Western Association of Schools and Colleges — California, Hawaii, Samoa, Guam, Federated States of Micronesia, Northern Marianas Islands, Palau
–164 institutions
National accrediting is known for for-profit, vocational, career or technical programs.
For-profit Woes:[5]
88% of for-profit students take out student loans..[6]
with an average debt of $39,950
And few students finish
University of Phoenix: Full time enrollment 238,326/ six-year graduation rate: 9%
ITT Tech: Full time enrollment 338,509, graduation rate: 66%
Devry University: 73,543 full time enrollment, undergraduate graduation rate: %32[4][7]
Yet nationally accredited schools do provide many students with the skills they need.
Such as:
Nursing
IT
Education
Accounting
Graphic Design
Just Beware of Diploma Mills!
What's a diploma mill? [8]
1.) Sets up fake accrediting body
2.) Offers large amount of credit to students based on life experiences
3.) May require homework or textbooks, but work is never viewed by actual faculty members.
Beware of Fake Accrediting titles!:[3]
Accreditation Council for Distance Education (ACTDE)
Accreditation Council for Online Academia (ACOHE)
Accreditation Panel for Online Colleges and Universities (APTEC)
Accrediting Commission International (ACI)
American Accrediting Association of Theological Institutions
American Council of Private Colleges and Universities
American Association of Drugless Practitioners (ADP)
Association of Accredited Bible Schools
Association of Distance Learning Programs (ADLP)
Association of Private Colleges and Universities
Association for Online Academic Accreditation
Association for Online Excellence
Association for Online Academic ExcellenceOhio University
Board of Online Universities Accreditation (BOUA)
Central American Council of Accreditation (CACA)
Council for Distance Education
Council of Online Higher Education
Central States Consortium of Colleges & Schools
Distance and Online Universities Accreditation Council (DOUAC)
Distance Learning International Accreditation Association (DEIAA)
Distance Learning Quality Assurance Agency (DLQAA)
Global Accreditation Bureau (GAB)
Global Accredited Council for Business Association (GACBA)
Global Accreditation Commission for Distance Education (GACDE)
Global Accreditation Council for Online Academia
International Commission for Higher Education
International Accreditation Agency for Online Universities (IAAOU)
International Accreditation Association for Online Education (IAAFOE)
International Accreditation Commission (IAC)
International Association Council of Engineering Professionals (IACEP)
International Accreditation Commission for Online Universities (IACOU) (Kingston)
International Accreditation Commission for Online Educational Institutions (IACOEI)
International Accreditation Organization (IAO)
International Council on Education (ICE)
International Education Ministry Accreditation Association
International Online Education Accrediting Board (IOEAB)
National Academic Higher Education Agency (NACHE)
National Academy of Higher Education
National Accreditation and Certification Board (NACB)
National Board of Education (NBOE)
National College Accreditation Council (NCAC)
National Commission of Accredited Schools (NCAS)
National Distance Learning Accreditation Council (NDLAC)
New Millennium Accrediting Partnership for Educators Worldwide
Organization for Online Learning Accreditation (OKOLA)
Transworld Accrediting Commission Intl. (TAC)
United Christian College Accreditation Association (UCCAA) (Divine Heart)
United Nations Council
United States Distance Education & Training Council of Nevada (NOTE: A similarly titled agency, the Distance Education & Training Council (DETC), of Washington, D.C., is a VALID and RECOGNIZED online learning accreditation agency.)
Universal Accreditation Council (UAC)
Universal Council for Online Education Accreditation (UCOEA)
World Association for Online Education (WAOE)**
World Association of Universities and Colleges (WAUC)
World Online Education Accrediting Commission (WOEAC)
World-Wide Accreditation Commission of Christian Educational Institutions (WWAC)
Worldwide Higher Education Accreditation Society (WHEAS)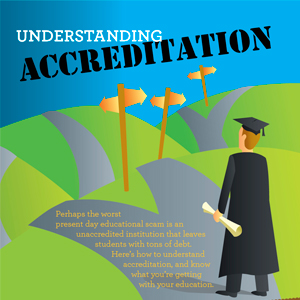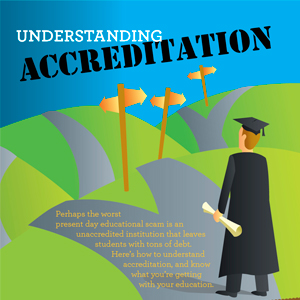 Citations: