As a medical sonographer, you'll be an integral part of the healthcare team responsible for detecting diseases and saving lives.
Selecting one of our top ten online sonography programs allows you to begin pursuing higher education. The programs listed below provide the educational tools you need to pursue your job of choice in diagnostic medical sonography.
Featured Programs
By and large, these programs are for individuals that are new to sonography. These introductory programs give you a solid foundation to begin your career while allowing practicing diagnostic medical sonographers to develop their skills further.
See Also: 25 Accredited Online Colleges for Radiation Therapy
What Do You Learn With a Degree in Diagnostic Medical Sonography?
The focus of online schools for sonography depends on whether you're pursuing an online associate's degree in sonography or a Bachelor of Science in Medical Sonography.
If you're looking for a program to help you land your first sonography job, it will likely be an AAS degree. This is an entry-level degree that focuses on building essential skills. You'll do this in courses like:
Medical Terminology
Medical Ethics
Anatomy and Physiology
Physics
Algebra
Of course, his degree teaches you the basics of sonography, too. You'll learn the skills necessary for operating medical diagnostic ultrasound imaging equipment. You'll also learn different applications of sonography, such as abdominal ultrasounds, cardiac ultrasounds, and urogenital ultrasounds.
In an AAS program, you must also complete an internship or externship in a hospital or medical clinic. A field experience such as this gives you the experience of performing sonography on actual patients. You can rely on that real-world experience later on when you begin your career in earnest.
See Also: 30 Accredited Online Colleges for Respiratory Therapy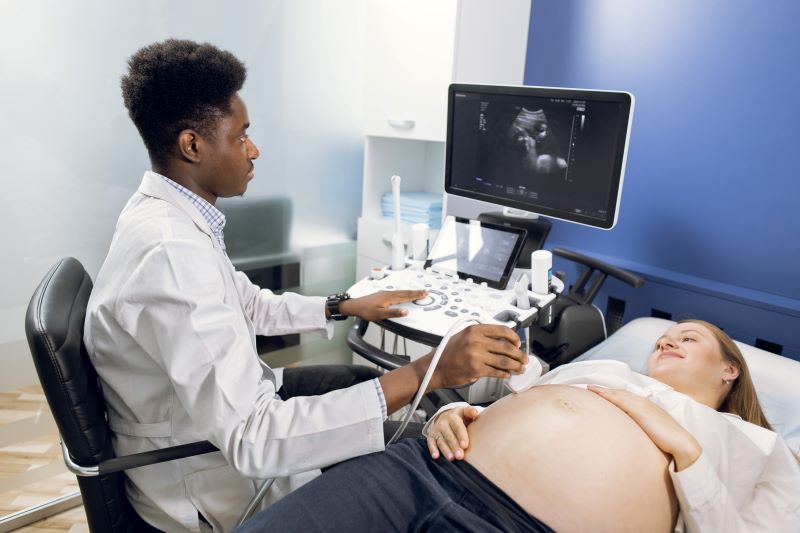 Many Bachelor of Science in Medical Sonography programs require that you have already completed a radiology or medical sonography program. Likewise, BS programs usually require that you hold a credential in medical sonography. If you don't meet these criteria, you'll need to do so before applying to a bachelor's degree program in this field.
In BS programs in sonography, you'll focus your studies primarily on subjects that give you in-depth knowledge of the healthcare system and medical sonography. This might include classes in:
Healthcare and Aging
Epidemiology
Health Policy
Ultrasound Physics
Pediatric Sonography
Additionally, some of the programs on this list allow you to take a test to obtain certification in sonography upon completing your studies.
Examples of additional diagnostic medical sonography courses you may take at the bachelor's level include fetal echocardiography, musculoskeletal sonography, and cardiac sonography. You might also take a survey course on vascular sonography and technology, among other specialized topics that improve patient care.
See Also: Accredited Online Colleges for Registered Dieticians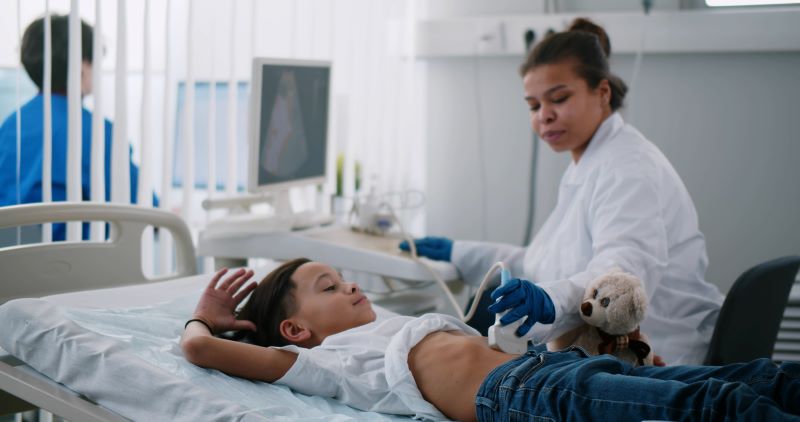 What Are the Best Accredited Online Sonography Programs?
Accredited Online Colleges uses the most recent data from the Department of Education's National Center for Education Statistics to rank the programs below. Each program has an individual score. It's then compared to all other universities offering that degree to determine the final score you see by each ranking.
Accredited Online Colleges considers multiple factors in its ranking criteria, including affordability, the student-to-faculty ratio, and the number of programs offered on campus and online. For more information, see our methodology page.
Let's get to our ranking of the top sonography online schools!
See Also: Cheap Accredited Online Colleges
If you already have an associate's degree in diagnostic medical sonography, this program from Marian University offers a flexible and convenient way to complete your undergraduate studies.
This program is specifically designed for medical sonographers who want to build on their existing sonography experience. To do so, you can transfer as many as 60 credit hours into the program, provided you have a certification from ARDMS, the American Registry of Diagnostic Medical Sonography. Likewise, you can transfer up to 60 credits if you have a certificate from Cardiovascular Credentialing International (CCI).
Though this is a 100 percent online degree, your coursework is highly interactive and allows you to work with faculty and classmates in a rich learning environment. Courses include major area requirements and general electives. Additionally, you must complete 60 credits of diagnostic medical sonography clinical.
Learn more about Accredited Online Programs for Diagnostic Medical Sonography at Marian University here.
Second on our list of online sonography schools is Fort Hays State University. This program explores many diagnostic imaging practices and applications, including diagnostic medical sonography.
This Bachelor of Science in Medical Diagnostic Imaging is specifically for you if you're currently enrolled in or have completed an accredited radiologic technology program. As a student in this BS program, you can choose to specialize your studies in areas like:
Magnetic Resonance Imaging (MRI)
Computed Tomography (CT)
Mammography (M)
Cardiovascular Interventional Technology (CVIT)
Bone Densitometry (BD)
The program is 124 credit hours. Your major elective courses, which come from a large list of relevant imaging classes, comprise 30 of these credit hours. Fifty-five credits of general education courses and 33 credits of free electives comprise the rest of the degree requirements.
If you've finished a radiologic technology program from a non-degree-granting institution, you may find FHSU's program particularly advantageous to your educational pursuits. That's because the university grants up to 46 credits toward the degree for prior coursework.
Learn more about Accredited Online Programs for Diagnostic Medical Sonography at Fort Hays State University here.
If you want to start sonographer schooling online and don't have any previous experience in the field, then you'll want to check out Washburn University's diagnostic medical sonography certificate programs. These certificate programs take around one year of full-time study to complete. This includes clinical rotations, so you'll be ready to land your first job in the field and jump right into being an ultrasound tech.
You can choose from three different certificate programs relating to sonography, including a general track, a cardiac track, and a vascular track.
The general track consists of 40 credit hours, while the cardiac and vascular tracks each include 34 credit hours. All of the certificate programs require you to complete 1,104 clinical hours of training before graduation. After completing one of Washburn's sonography certificate programs, you're eligible to sit for the credentialing examination with ARDMS or CCI.
Learn more about Accredited Online Programs for Diagnostic Medical Sonography at Washburn University here.
This bachelor's of science degree in Diagnostic Medical Sonography prepares you for a career in an entry-level health sciences position. This is a hybrid program, with online courses and in-person fieldwork, including an externship in a hospital or another medical setting.
You'll explore various specialties in sonography as you progress through this program. This includes courses in:
Ethics
Patient care
Anatomy and physiology
Ultrasound techniques and sonography principles
Abdominal sonography
Likewise, you'll take advanced courses in vascular sonography, musculoskeletal sonography, and ultrasound methods for obstetrics and gynecology.
Smith Chason College also offers a bachelor of science in Diagnostic Cardiovascular Sonography, as well as several associate's degree programs and certificates.
Learn more about Accredited Online Programs for Diagnostic Medical Sonography at Smith Chason College here.
Advent Health University's online bachelor's degree in imaging sciences allows you to specialize in sonography. You'll take traditional general education courses (e.g., English, math, and science). You'll also take 27 credits of cognate courses, including:
Legal Aspects of Healthcare
Technical Writing
Leadership and Organizational Behavior
Sectional Anatomy
Survey of Healthcare Finance
Additionally, you'll complete 15 credits of core courses in imaging plus 12 more credits specific to sonography.
Admission to this program requires that you already be a credentialed sonographer. With a robust background in sonography already under your belt, completing this degree will be a quick process.
Learn more about Accredited Online Programs for Diagnostic Medical Sonography at Advent Health University here.
You can pursue a Bachelor of Radiation Science Technology degree at the University of Cincinnati Blue Ash College. You can focus your studies and perform an internship in either education or management
This program is designed for individuals who have earned an associate's degree in medical imaging or radiation therapy. Likewise, you must currently have a national professional certification in one of the following areas:
Radiation Therapy Technologist – RT(T)
Registered Musculoskeletal Sonographer – RMSKS
Registered Radiologist Assistant – RRA
Diagnostic Medical Sonographer – RDMS
Nuclear Medicine Technologist – RT(N)
Vascular Technologist – RVT
Certified Nuclear Medicine Technologist – CNMT
Diagnostic Cardiac Sonographer – RDCS
Radiologic Technologist – RT(R)
Going into the last semester of your radiation or medical imaging studies, you can apply to the bachelor's program and be conditionally accepted.
This program has multiple start dates each year, allowing you to begin your studies in the fall, spring, and summer semesters. Once admitted, you're expected to maintain a minimum 2.5 cumulative GPA to remain in good academic standing.
Learn more about Accredited Online Programs for Diagnostic Medical Sonography at The University of Cincinnati Blue Ash College here.
The Bachelor of Science in Diagnostic Medical Sonography from the Oregon Institute of Technology is a program created specifically for Registered Diagnostic Sonographers. If you want to pursue career advancement in your current job or continue your educational journey with a master's degree, this is the program for you.
With this degree, you will gain more in-depth knowledge of medical sonography and medical sciences, all while completing a general education curriculum that consists of 67 credit hours of coursework. General education classes include:
Anatomy and Physiology
Algebra
Trigonometry
Psychology
Technical Report Writing
This school has an excellent transfer policy. If you have ARDMS registry credentials in both OB/GYN and Abdomen concentrations, Oregon Tech awards you 80 credits. If you have the two ARDMS credentials, you will take 45 credit hours of professional credit. These credits expand your knowledge of sonography with classes like Neonatal & Pediatric Sonography and Surveys of Vascular Pathology.
Learn more about Accredited Online Programs for Diagnostic Medical Sonography at Oregon Institute of Technology here.
Jackson College has a program ideally suited for you if you want to start a career as a medical sonographer. Once accepted into this program, you'll complete the Associate of Applied Science in General Sonography. Upon graduation, you will be eligible to sit for the ARDMS exams in Physics and Instrumentation, Abdomen, and Obstetrics/Gynecology.
While learning the anatomy and physiology of the human body, you will also be immersed in how sonography and imaging machines work. Coursework also emphasizes the way team dynamics function in medical settings and the importance of having a strong team that works well together. Some of the courses you'll take include:
Sonographic Techniques
Sonographic Instrumentation
Obstetric and Gynecologic Sonography
Abdomen and Small Parts Sonography
Medical Terminology
You will perform a minimum of 1,350 supervised clinical hours throughout the program. This real-world experience helps you feel comfortable performing medical sonography on actual patients following your graduation.
Learn more about Accredited Online Programs for Diagnostic Medical Sonography at Jackson College here.
Misericordia University offers three programs in diagnostic medical sonography: a Diagnostic Medical Sonography Certificate, a full-time BS in Diagnostic Medical Sonography, and a part-time Post Certification BS in Diagnostic Medical Sonography (ARCH Accelerated).
The certificate program prepares you for your first ultrasonography job in 18 months. The curriculum includes 1,400 hours of clinical experience. As a student in this program, you'll start seeing real patients within seven months and continue to get hands-on learning until your graduation.
The full-time Diagnostic Medical Sonography option is ideal if you don't have previous college experience. Likewise, this is a good option if you want to complete your bachelor's degree before jumping into the field. Since this is a complete bachelor's degree program, you're required to finish general education courses in math, science, and the humanities, among others. Additionally, you'll take sonography-related classes like:
Introduction to Sonography Lab
Ultrasound Physics and Instrumentation
Sonographic Cross-Sectional Anatomy
Sonography Patient Care
Abdominal Sonography
Alternatively, the part-time Post Certification BS in Diagnostic Medical Sonography (ARCH Accelerated) can be completed in two years. This is a perfect option if you're a practicing sonographer that wants or needs to get a bachelor of science degree.
Learn more about Accredited Online Programs for Diagnostic Medical Sonography at Misericordia University here.
Rounding out our list of sonography schools online is Concordia University. This university recognizes that going back to school can be financially challenging, which is why it provides thousands of dollars in scholarships each year to its students in the Bachelor of Science in Diagnostic Medical Sonography completion program.
This program requires you to transfer at least 63 credit hours, but the school accepts up to 84 transfer credits. This generous transfer policy means big savings as you work toward completing the 120 credit hours required for the degree.
Classes are held in six- or eight-week modules. This allows you to focus more thoroughly on your classes. It also offers a flexible approach to education that allows you to continue working full-time in your current position.
This program takes around 18 months to complete, depending on your number of transfer credits. As you progress through the program, you'll complete a common core curriculum consisting of classes in Christianity, Western culture and worldview, and science and humanity.
The major coursework consists of 23 credit hours of sonography-specific classes.
Learn more about Accredited Online Programs for Diagnostic Medical Sonography at Concordia University here.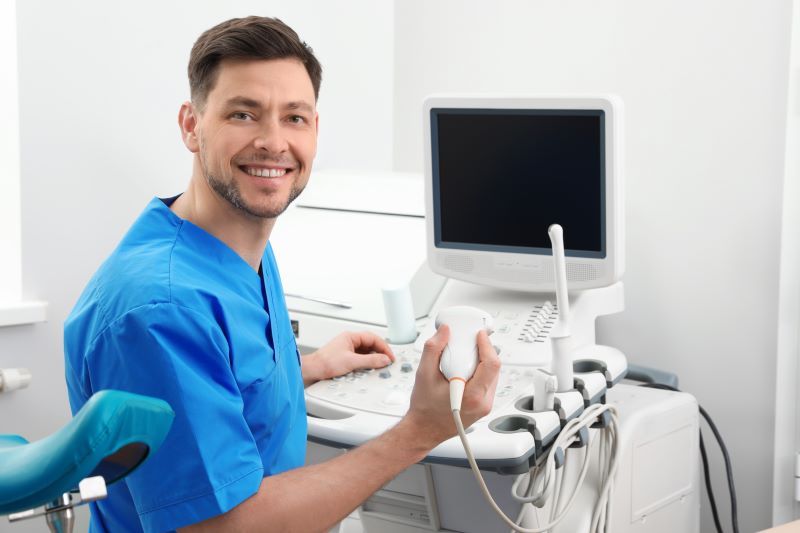 Frequently Asked Questions
What Requirements Do You Need to Meet to Apply to a Diagnostic Medical Sonography Degree Program?
Accredited programs for sonography vary in the admission requirements prospective applicants need to meet. For instance, admission teams likely have different expectations if you're applying to a bachelor's program than they do if you're applying to an associate's program.
If you apply to an associate's program at a community college, you likely have a limited amount of previous college experience. However, if you've attended college classes in the past, the admission team will want to see the transcripts from those educational institutions.
In addition, if you've just graduated high school, you'll need to provide your diploma or proof of completion of its equivalent, such as a GED. Some schools that offer associate's degrees require you to submit your SAT or ACT scores as well. It would be best if you double-check with the admissions office at your intended college or university to confirm if this is a requirement.
Bachelor's degree applicants likely have some amount of previous college experience, as many of the programs on this list require at least 40 credit hours of prior college coursework for admission. For example, most of the bachelor's programs listed here expect applicants to be in their last semester of a sonography program or already working in diagnostic medical sonography.
However, some online bachelor programs teach you the foundations of sonography while you earn your degree. This negates the need to have prior sonography experience. If you're switching careers, this type of bachelor's degree program might be the best choice.
The majority of BS programs in this major require that prospective students like you be a Registered Diagnostic Medical Sonographer (RDMS). This credential is awarded by the American Registry for Diagnostic Medical Sonography (ARDMS). Baccalaureate-level programs often require this credential as it signals that the holder is competent to practice sonography and has a similar knowledge base to that of other applicants.
Along with requiring the RDMS credential, many bachelor's programs in sonography also want applicants currently employed as diagnostic medical sonographers. This requirement ensures you currently use sonography knowledge and skills. Likewise, it ensures that you can implement new knowledge learned in the program without having to complete an internship.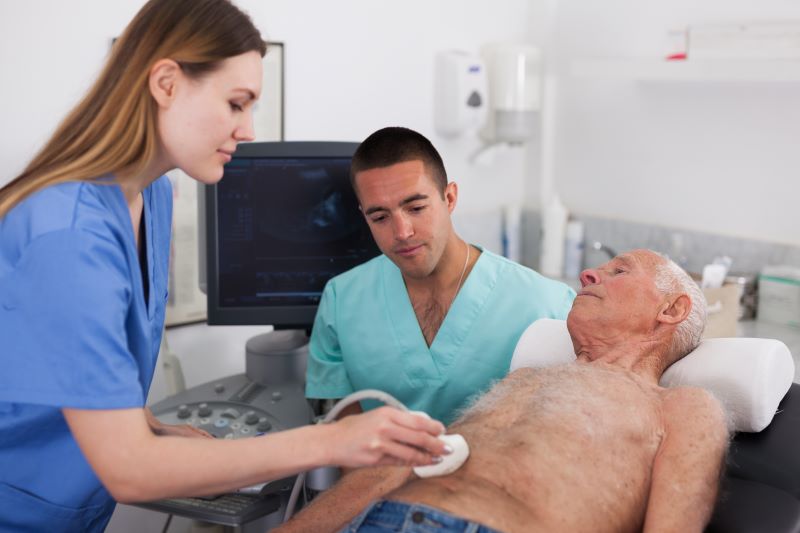 Are Internships in Sonography Required for an Online Diagnostic Medical Sonography Program?
If you're working toward certification with the American Registry for Diagnostic Medical Sonography, one of the general requirements for examination is one year of full-time clinical ultrasound or vascular experience. Because of that, all of the associate's programs on this list that lead to certification have required clinical internship experience necessary to apply for certification. The amount of clinical internship experience required of learners generally ranges from 1,000 to 1,400 hours, depending on the program and specialization.
If you're already practicing diagnostic medical sonography and are working toward a bachelor's degree, you may or may not have to complete additional internship hours. Clinical internship hours may be required for practicing sonographers if you're seeking certification in another area of sonography. For example, your experience might be in vascular sonography, but you'll need to complete internship hours if you want to specialize in pediatric sonography or neurosonography.
How are Online Sonography Programs Accredited?
The Commission on Accreditation of Allied Health Education Programs (CAAHEP) is the accrediting agency for sonography programs. As with any other kind of accreditation, CAAHEP's process begins with a request for accreditation from a program. Once the request is made, the program requesting accreditation undergoes a self-study to examine if and how the program meets the accreditation standards..
The next step in the process is a review of the self-study materials by CAAHEP's Commission on Accreditation (CoA). The CoA provides necessary feedback, if any, to the program, then prepares for a site visit. The site visit is a one to two-day process in which accrediting representatives verify the details of the program's self-study. Site visits typically occur in person, though they might also occur online or in a blended format.
The site visit team then reports on their findings, which are shared with the program. The program can respond to the results and make adjustments as needed.
At that point, the CoA thoroughly reviews the site findings and the program's response and critically evaluates the extent to which the program meets accreditation requirements. The program can be recommended for accreditation, or the CoA might recommend that accreditation be withheld. If that's the case, the program can submit additional documentation to meet accreditation requirements.
How Much Will I Make as a Diagnostic Medical Sonographer?
Completing your coursework and clinical fieldwork in a diagnostic medical sonography program prepares you for a job title such as ultrasound technician.
The salary you can earn as an ultrasound technician or diagnostic medical sonographer depends on a few factors. For example, your level of education and the specialty within sonography that you pursue both influence potential earnings. If you have a bachelor's degree and a certificate in Pediatric Sonography, you stand to earn more money than someone with an associate's degree in sonography.
Other factors help determine your earnings, too. The specific location in which you work and the geographic location both affect your pay. For example, sonographers working in outpatient care centers make an annual mean salary of $109,670. By comparison, sonographers working in medical and diagnostic laboratories earn an average of $74,190. That's still an excellent salary, but it's much less than what's possible working in an outpatient setting.
The geographic location has a much more profound effect on earnings than you might think. Sonographers in California earn an average of $109,350 per year, but in the Miami, Florida, area, that number is $69,820. Generally speaking, the highest paying jobs in this field are in the west – California, Oregon, Washington, and Hawaii.
As of 2021, diagnostic medical sonographers took home a median annual salary of $77,740. Remember, the reported annual salary is the median or midpoint number, meaning that some individuals earn significantly more or less each year. The pay range extends from a low of around $60,000 per year to more than $100,000 per year.
In 2021, an estimated 82,300 people in the U.S. were employed as medical sonographers, according to the United States Bureau of Labor Statistics (BLS). Of this number, just under 50% reported earning an associate's degree, and only 17% reported having a bachelor's degree, according to O*NET. Since so few sonographers currently hold a bachelor's degree, continuing your education with a bachelor's degree may provide you with opportunities for career advancement above and beyond what is available to those with only an associate's degree.
According to the BLS, there will be over 155,000 people employed in the U.S. as diagnostic medical sonographers by 2031. The BLS expects this profession to grow by a faster-than-average rate of 10 percent in that time.
If you're interested in pursuing higher education, then you should check out the Top 15 Accredited Schools Offering Online Associate Degrees and 30 Accredited Online Colleges For Dental Hygiene!