Share this infographic on your site!
Fake Schools, Fake Degrees: Avoiding Diploma Mills
What is it:
 A diploma mill is a phony university that sells a diploma — a worthless piece of paper — rather than the educational experience.
It's a Big Business
$80,000: Average cost of getting a college degree
$399: Average cost of a fake online diploma in 2010
3,000: Number of unrecognized universities selling degrees to anyone for cash
$500 Million: estimated amount spent on fake diploma annually
More than 100,000 fake degrees sold in US annually
40,000-45,000: Number of Ph.D.s earned annually in US
More than 50,000: Number of fake Ph.D.s bought annually from diploma mills
More than 50%: Estimated number of all people with Ph.D.s have fake Ph.Ds
Want to buy one? What's it cost around the world?
Fake Bachelor and Masters Degrees – Mexico $1,555 Online
Fake Bachelor's Degree Online $34,000
Fake College Transcripts – Massage School $10,000 to $15,000
Fake Degree – Iraq $1,500 to $7,000
Fake Diploma – Australia $249 Online
Fake Diploma – China $20 to $44
Fake Diploma – Indonesia $648
Fake Diploma – Philippines $10 to $60 in 2 hours
Fake Doctoral Degree Online $550
Fake Harvard Degree – Russia $40,000
Fake High School Diploma – Indonesia $432
Fake Master's Degree – Saudi Arabia $5,000
Fake MBA Degree – UAE $5,445
Fake MBA Degree Online $500
Fake Pilot License – Philippines $30,000 to $50,000
Fake Teaching Diploma – Vietnam $50 to $600
Fake University Degree – India $80 to $1.035
Fake Yale Degree – Vietnam $1,200 to $1,500
Behind the Ivy: Spot the Fakes
Red Flags: Warning Signs
Red flag #1: No Studies, No Exams, No Interaction
Red Flag #2: No Classwork. Degree based on your life experience
Red Flag #3: Flat Fee. Gimme your money, honey
Legitimate colleges charge by the credit, course, or semester — not a flat fee
Red Flag #4: Fast, Fast Track
You can't earn a degree in a few days, weeks, or even months
Red Flag #4: Hi-Pressure Sales People. Legit schools don't advertise through spam
Red Flag #5: Frequent Name Changes
Red Flag #6: No Public Email Address
Red Flag #7: No Student Services
Real distance learning requires resources like councilors and tech support
More clues: The Hidden Traps
• Accreditation
Diploma Mills aren't accredited, so they hide it, behind terms like "internationally approved," "authenticated," and "licensed."
How to avoid it: Research. Ask Questions.
• Are they accredited?
• By whom?
• Is the accrediting agency legitimate?
• Faculty
Faculty can be researched, so scam sites leave them out.
How to avoid it: Dig deeper. Don't deal with just one person.
• Where did the faculty graduate from?
• What resources are available as a distance learning student?
• Who is in charge of student services, can you speak to them?
• Location
Many diploma mills are located outside U.S. Others have only a PO Box and exist only as a website.
How to avoid it: Find the details.
• Does the university have a physical presence?
• Where exactly is it located?
We're #1: U.S. is the fake college capital of the world
Top 10 Locations of diploma mills in U.S.
• California (134)
• Hawaii (94)
• Washington (87)
• Florida (57)
• Texas (53)
• New York (44)
• Louisiana (39)
• (tie) Illinois (29)
• (tie) Nevada (29)
• Arizona (28)
Outrageous. Diploma Mills at work
• Dog earns MBA
: Chester Ludlow, a pug dog from Vermont, awarded an MBA from Rochville University. Diploma sent from Dubai.
• Cat gets its GED: 
Sponsored by the Better Business Bureau, Oreo the cat achieved its General Equivalency Degree (GED) from Jefferson High School Online for only $200.
• In 2008, 10 Washington State Troopers used fake diplomas to earn $50,000 in raises.
If you think you're being scammed: check with the CHEA,"The Council for Higher Education Accreditation (CHEA): http://www.chea.org/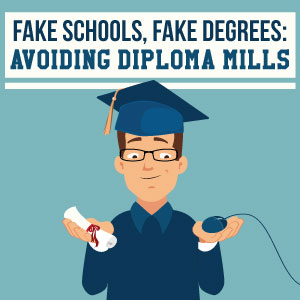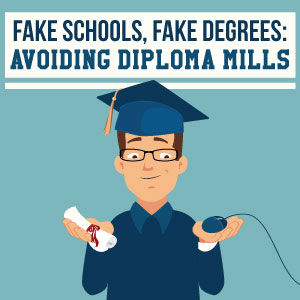 Sources:
http://www.geteducated.com/life-experience-college-degree/290-online-college-diploma-mill-cases
http://www.usnews.com/education/online-education/articles/2015/06/09/7-warning-signs-an-online-degree-is-a-scam
http://www.havocscope.com/fake-diploma/
http://onlineuniversitydata.com/2010/a-brief-history-of-the-diploma-mill-scam-and-10-tips-for-students-to-avoid-them/
http://www.chea.org/
http://aaar.assembly.ca.gov/sites/aaar.assembly.ca.gov/files/reports/Intro%20to%20Degree%20Mills.pdf
http://www.geteducated.com/life-experience-college-degree/290-online-college-diploma-mill-cases
http://www.usnews.com/education/online-education/articles/2015/06/09/7-warning-signs-an-online-degree-is-a-scam
http://www.havocscope.com/fake-diploma/
http://onlineuniversitydata.com/2010/a-brief-history-of-the-diploma-mill-scam-and-10-tips-for-students-to-avoid-them/
https://support.infocheckusa.com/support/solutions/articles/1000009892-diploma-mill-statistics
https://www.consumer.ftc.gov/articles/0206-college-degree-scams
http://www.jrcert.org/news/degree-mills/
http://www.geteducated.com/college-degree-mills#sthash.6ZUrf2Ye.dpuf