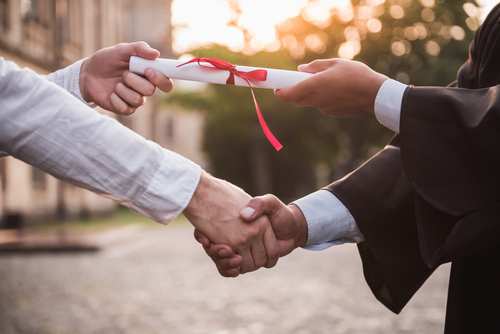 Featured Programs
Students enter graduate studies for a diverse number of reasons. Many want to earn a master's degree as a way to continue learning, and others choose to continue their education for job advancement or a change in career. No matter what the reason, most graduate candidate hopefuls feel that online degree programs are best suited to meet their educational and professional goals. Since most students must manage work and family responsibilities in addition to academics, many find that participating in accredited online master degree programs is the best way to maximize the efficiency of their time and financial investments. Plus completing a master degree leads to a number of possibilities both while attending courses and after graduation.
What A Master's Degree Is
Most people respect the importance of education, and earning an undergraduate degree is an investment that often opens doors of opportunity. The master's degree is the next step up the ladder of academic credentials after a bachelor's degree. An online master degree is the same as one earned on campus, except that students do not sit in a campus classroom and have a virtual learning experience compliments of technology and the internet. A master's degree may increase opportunities, but experts recommend that students consider the cost of spending at least another year in study in addition to the price of enrollment. The U.S. News and World Report asked business executives for opinions about the value of getting a master's degree as a way to achieve success in the business world. Responses reflected mixed opinions, with some favoring it while others valued experience more highly. Earning a master's degree usually requires at least one year of study after graduation from undergraduate school. Students in graduate school focus on a special area of interest, usually the major field in which they earned an undergraduate degree.
Many graduate programs combine studying with work experiences as an option that some executives recommend as a practical approach. Combining a master's degree with on the job experience is a potential way to impress future employers, according to an executive recruiter who was interviewed by the magazine. An advanced degree that is enhanced by work experience or internships may show that a job candidate has practical as well as theoretical knowledge.
See Also: Top 30 Accredited Online Accounting College Degree Programs
Availability of Online Master Degree Programs
Nearly one thousand schools offer online master's degree programs, and many of them provide hundreds of fields of interest. Millions of students are currently enrolled in online master's degree programs, allowing them the opportunity to continue working while studying on evenings and weekends. The National Center for Educational Statistics reports that master's degrees in these fields are the most popular:
Business Administration
Courses offer instruction in marketing, finance, business law and statistics for aspiring administrators, supervisors and managers.
Education
Teachers who want to advance can take courses in assessment, evaluation, curriculum development and leadership skills.
Public Health
Advanced training is available for public health workers that include program coordinators, administrators and consultants.
Public Administration
Offering instruction in urban planning, finance, strategic planning, quantitative math, budgeting and personnel management, the degree is a choice of many in the public sector.
Engineering
Many sub-fields in engineering are featured in online master's programs, including civil engineering that focuses on viability and environmental aspects of capital projects.
Psychology
Advancement in the mental health field includes knowledge of psychological assessment methods, cognitive influences, ethical issues and behavioral studies.
Criminal Justice
A career in crime investigation and prevention is aided with courses in forensic science, law enforcement, terrorism and administration.
Information Technology
The study of information technology includes software and hardware development, networking, security requirements and business information processes.
Nursing
Advancing in the nursing field requires coursework that includes ethics and policy matters, finance and research in healthcare.
Social Work
Careers in community health require training in developing welfare policy as well as learning about clinical operations.
Opportunities to earn a master's degree online are readily available to college graduates who have access to a computer. In combination with work experience, the degree may open doors to advancement for aspiring job applicants since courses provide the refined skills and educational background necessary to propel personal, educational, and professional goals.