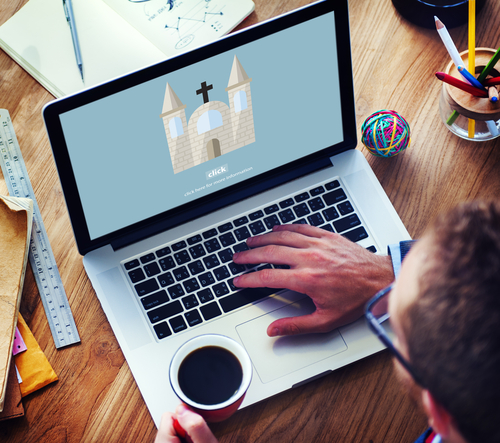 What is an Online Bible College?
Whether you feel compelled to work in the ministry or you simply want a faith-based education, looking for online Bible degrees accredited by regional or national accrediting agencies is an excellent place to begin.
Featured Programs
Like non-religious colleges, online Bible colleges give you the opportunity to learn and grow with enrollment in a wide range of general education courses that prepare you for your selected vocation. Of course, online studies look a little different than traditional on-campus learning, but ultimately, your online program will challenge you and help you grow in the same way that on-campus students experience in their coursework.
Additionally, you'll get a Christian education rather than a secular one. While you might take non-religious courses, religious principles will guide your studies at a Christian university.
Accredited online Bible colleges and seminaries offer an array of degree programs that range from two-year associate's degrees and four-year Bachelor of Arts degrees all the way up to doctoral degrees. You can study certain religions, like Judaism, and you can also study specific academic areas, like religious history. Online Bible colleges also offer career-readiness programs, like faith-based counseling degrees, that allow you to use what you learn about psychology, counseling, and faith, to offer Bible-based services to clients in need.
In other words, an online Bible college isn't that much different from any other kind of college. It's a place where you can explore new ideas in online classes, challenge yourself to gain new skills, and prepare yourself for a successful future in your career of choice with undergraduate degrees and other studies.
How Online Bible Colleges are Accredited
Reputable Bible colleges or organizations of religious study maintain high educational standards. Doing so is part of the accreditation process. But, to achieve accreditation from nationally recognized educational entities, a theological seminary or Bible college should already focus on maintaining excellent standards of study.
Agencies, organizations, and other authorities that accredit schools must be recognized as legitimate institutions themselves. The two main approving bodies that recognize accrediting agencies are the U.S. Department of Education (USDE) and the Council for Higher Education Accreditation (CHEA).
Accreditation awarded to schools is validated when it comes from agencies that are approved by either of these groups since these national accrediting agencies oversee all aspects of accreditation. Special purpose institutions, including those offering religious or theological programs, are no exception.
In recent years, many online courses in the field of religious studies have appeared. Unfortunately, not all of them are from Bible schools online with accreditation. For students seeking to attend a Bible college, accreditation is an important consideration when choosing a program. In other words, go beyond just searching for "Bible college online accredited" or "online bible college accredited."
Instead, prospective students should always verify a potential online Bible college's accreditation status. To help in that process, we've created a list of reputable organizations that are recognized for their accrediting authority in the field of Bible colleges.
See Also: Top Easy Accredited Online Master's Programs
Accrediting Associations for Online Bible Colleges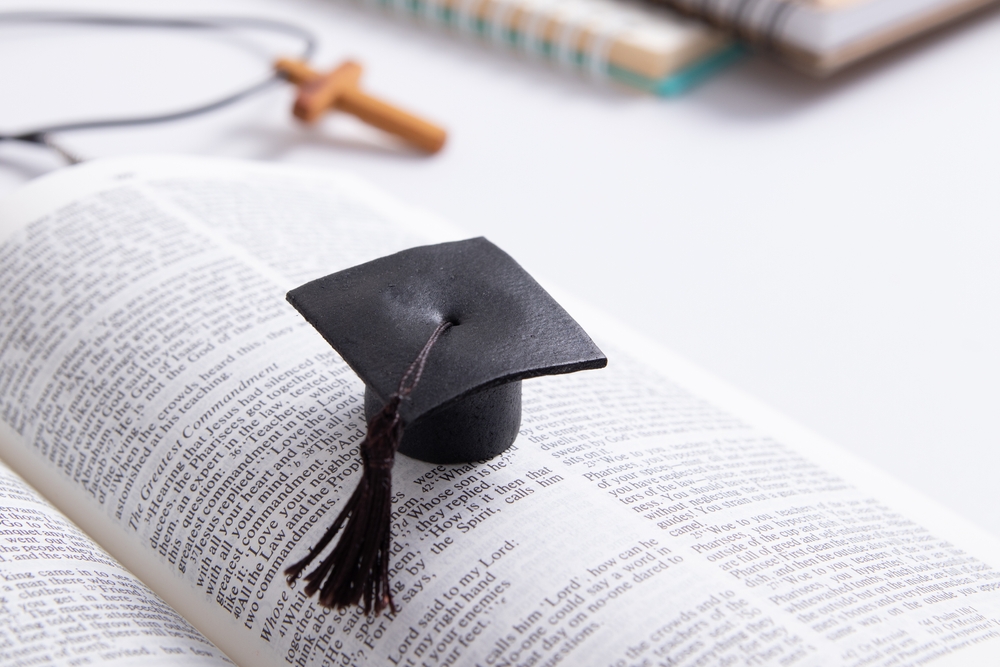 The following associations are recognized by the USDE and CHEA as being legitimate agencies for accrediting Bible colleges and their online programs:
The Association for Biblical Higher Education (ABHE), formerly The Accreditating Association of Bible Colleges (AABC): Founded in 1947, the ABHE has been in the forefront of accrediting Bible colleges. ABHE accredits approximately 200 seminaries, theological schools and Biblical/ministerial programs offering undergraduate programs and graduate programs throughout the US and Canada. It also endorses select online distance learning programs. For a list of institutions that offer distance learning programs accredited by ABHE, you can email them at [email protected]. For more information about online Bible schools accredited by ABHE, visit their FAQ section.
The Association of Advanced Rabbinical and Talmudic Schools (AARTS): This faith based organization provides educational standards for religious schools of the Jewish faith granting post-secondary degrees. It also offers accreditation to a few online school distance learning programs. AARTS provides no website and asks to be contacted via phone (212-363-1991) or email Keith Sharfman, Director at [email protected].
The Association of Theological Schools in the United States and Canada (ATS): ATS is an accrediting agency for over 270 Christian (including non-denominational) and Jewish graduate schools offering post-baccalaureate programs in ministry and other theological disciplines, including qualifying online distance learning programs. A list of online programs accredited by ATS can be accessed on the ATS Online Distance Education List.
Transnational Association of Christian Colleges and Schools (TRACS): This is a national organizing agency that accredits post-secondary Christian institutions offering undergraduate and graduate degrees in religious education. It also approves online distance learning programs that meet its criteria. To see a list of the programs TRACS accredits, see the information in the TRACS members directory.
The Distance Education Accrediting Commission (DEAC): Accredits online programs including those from religious institutions and colleges.
Remember, reputable accredited online Bible college websites specify their accreditation credentials from one or more of the aforementioned agencies.
See Also: How Does Accreditation Affect Financial Aid?
What about Regional or National Accreditation?
In addition to the agencies listed above that specialize in accrediting religious schools, many Bible colleges online also have institutional accreditation from a regional or national accrediting agency.
Regional accreditation comes from one of seven accrediting bodies recognized by the Council on Higher Education Accreditation. Each accrediting agency is responsible for accreditation activities in its region. Schools within that region that have achieved accreditation can be reasonably compared to one another has having high-quality educational programs for their students.
The process of becoming a regionally-accredited school is voluntary, yet rigorous. Accrediting bodies look at many factors, from the school's budget to the level of expertise of its professors. Additionally, site visits are undertaken such that accrediting officials can see first-hand how a school is implementing its plans for academic success.
Since regional accreditation is a rigorous process, it's viewed as a more prestigious form of accreditation than national accreditation. Usually, state schools and other public and private colleges and universities are regionally accredited. On the other hand, national accreditation is often more common among online-only schools, trade schools, and vocational schools.
National accreditation isn't as complex of a process to complete, but it still offers students like you a level of trust that a college or university has developed high-quality programs and are being held accountable for maintaining the quality of those programs.
However, it should be noted that credits earned at a nationally-accredited institution will only transfer to other nationally-accredited institutions. If you decide to transfer from a nationally-accredited school to a regionally-accredited school, the chances are good that your credits won't count. The inverse is not true, though – credits from a regionally-accredited school often transfer to a nationally-accredited school without issue.
See Also: The Difference Between Regional and National Accreditation
Online Bible College Programs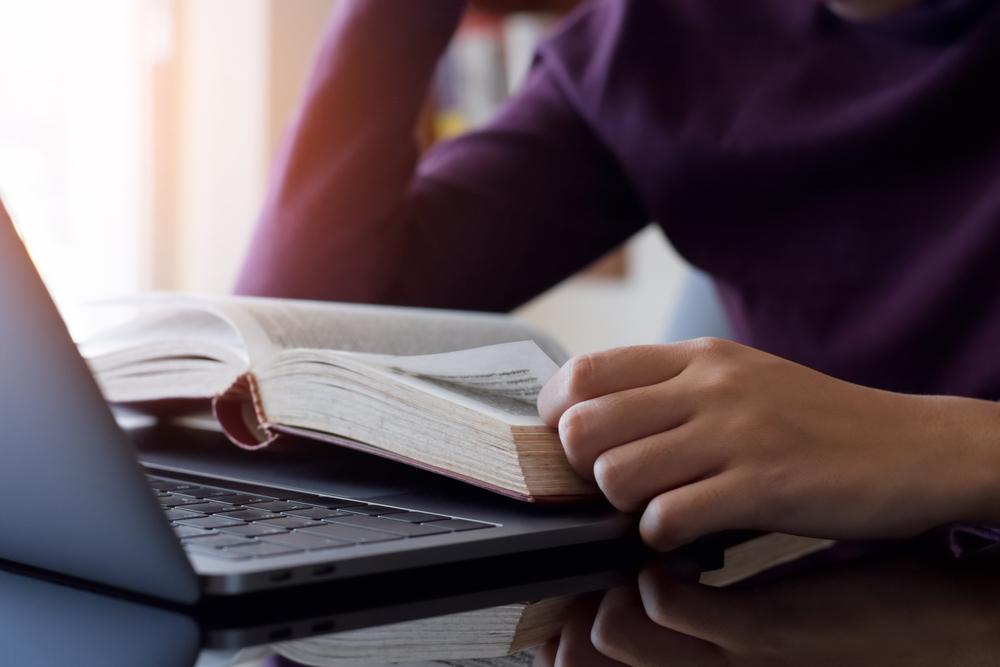 Online distance religious programs are outgrowths of traditional Bible colleges or religious institutions. They allow the learner to experience more flexibility to earn a religious studies degree while working around personal, family, and job schedules. As noted earlier, coursework covers many broad topics, including the history, culture, and impact of the religion being studied.
Of course, accredited online Bible schools offer many degree programs. You might prepare to be a missionary with a bachelor's degree in theology. Perhaps you want to become a teacher at a religious school by getting a master's degree in educational ministry. Or maybe you want to undertake professional development courses to learn how to be a better leader using religious studies as the foundation of your growth.
Whatever the case, online Bible college programs are a great way to combine your desire for academic growth with your commitment to doing so within the sphere of religion. In fact, you can study many different areas, including:
Pastoral ministry
Apologetics
Biblical theology
Christian counseling
Evangelism
Ministry leadership
Theological studies
Practical ministry
You can also learn how to lead a youth ministry, work in a local church, or share the word of God with others. You might gain skills regarding leading a bible study or mentoring high school students, or you might pursue a Master of Divinity or ministry degree. There's so many possibilities for a religious-based online education!
For those concerned about the cost of college programs, Bible college students are eligible for the same financial aid opportunities as other post-secondary students. In fact, if you Google "Bible school online accredited," you'll likely find a lot of information about financial aid. Still, you should check with financial aid advisors at your specific prospective schools about available grants and scholarships.
Fortunately, an online degree can cost much less than one obtained through traditional college programs. Since there's no need to commute to campus or live on campus, you don't have to worry about those expenses. Likewise, many online Bible colleges charge a flat online tuition rate regardless of where you live, so you might not have to pay out-of-state tuition, which can be very expensive.
See Also: What Kind of Accreditation Should an Online College Have?
Top Accredited Bible Colleges Online
The following is a list of accredited Bible colleges in the United States:
If any of these online Bible colleges pique your interest, use the links provided above to learn more.