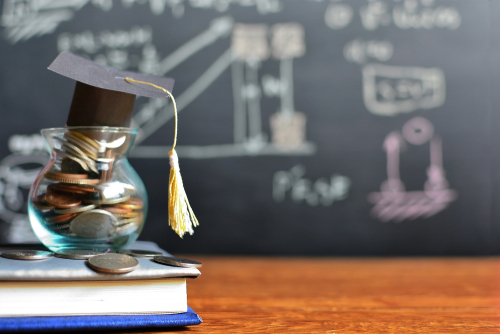 Higher education costs money that most students don't have out-of-pocket. In the United States, the average undergraduate tuition charges $21,003 per year. Prices rise even higher at private, nonprofit universities where the average annual bill is $35,987. That's why 85 percent of full-time students at four-year colleges rely on financial aid. The U.S. Department of Education offers federal assistance programs that awarded over $185 billion in 2013 alone. Financial aid is a valuable lifeboat for many college students to afford sailing towards their post-secondary dreams. Accreditation is one of the stipulations that affects your ability to claim funds though. Let's review everything you should know about how accreditation affects financial aid.
Basics of Accreditation
Accreditation is a rigorous appraisal process initiated by colleges voluntarily to judge the overall educational quality provided to students. Two types of accreditation affect financial aid: regional and national. Regional accreditation is extended to two-year and four-year traditional or online institutions based on their geographic location. National accreditation is granted primarily to career-oriented vocational and trade schools across the U.S. Under Title IV of the Higher Education Act, the government requires colleges to be regionally or nationally accredited for funding. Attending an unaccredited college will automatically make you ineligible. Acceptable accrediting agencies include the:
• Middle States Commission on Higher Education (MSCHE)
• Higher Learning Commission of the North Central Association (HLC-NCA)
• New England Associations of Schools and Colleges (NEASC)
• Southern Association of Colleges and Schools Commission on Colleges (SACSCOC)
• Western Association of Schools and Colleges (WASC)
• Accrediting Council for Independent Colleges and Schools (ACICS)
• Distance Education Accrediting Commission (DEAC)
• Association for Biblical Higher Education (ABHE)
• Transnational Association of Christian Colleges and Schools (TRACS)
Federal Financial Aid Conditions
College students seeking assistance must submit the Free Application for Federal Student Aid (FAFSA) before the Web deadline on June 30th. Information provided on this form will be used to calculate your basic eligibility for federal financial aid. You must demonstrate unmet financial need, which is calculated based on your expected family contribution (EFC). Selecting an unaccredited college is a surefire way to be rejected. Federal conditions require obtaining a college or career school education from an institution backed by accreditation. Other important requirements are:
• Being a U.S. citizen or eligible resident
• Possessing a Social Security number
• Enrolling in a degree or certificate program
• Taking college classes at least half-time
• Sustaining satisfactory academic progress
• Registering with Selective Service (males only)
• Having a high school diploma or GED
• Not being in loan default or incarcerated
Types of Aid Requiring Accreditation
Each type of Title IV federal student aid requires accreditation for eligibility. Federal grant programs offer free monetary help without creating debt. The Federal Pell Grant is perhaps the largest, awarding aid to 8.8 million students. Pell Grants can provide up to $5,815 each year for undergraduate and post-baccalaureate teacher credential students. The Federal Supplemental Educational Opportunity Grant (FSEOG) offers up to $4,000 yearly for students with significant unmet need. Aspiring educators planning to teach high-need subjects in low-income schools could earn the TEACH Grant for $4,000. The Iraq and Afghanistan Service Grant is also awarded for $5,419 to students under 24 whose guardian died in the Armed Forces.
Borrowing low-interest loans for federal financial aid is possible for students at accredited U.S. colleges. The William D. Ford Federal Direct Loan program is the largest lender with three borrowing categories. First, Direct Subsidized loans are given to undergrads for $3,500 to $5,500 to cover financial need. Direct Subsidized loans may provide up to $20,500 for any students, undergraduate or graduate, enrolled half-time. Direct PLUS loans have no upward limit for students' parents or independent graduate students. The Federal Perkins Loan program is a school-based alternative for exceptional needy learners. Remember that loans must be repaid starting six months after graduation. America's student loan debt surpasses $1.2 trillion.
How to Check for Accreditation
Your school's accreditation status not only affects federal loans and grants, but it can also disqualify you for certain private scholarships. During your college search, play it safe by double checking accreditation. The U.S. Department of Education maintains a convenient accreditation database to find accurate, up-to-date approval facts. Simply type in the college's name or search across your state of residence. Note that state universities and private nonprofits are the most desirable because they're regionally accredited. Title IV financial aid is available to lower your costs, and credits transfer to protect your degree investment.