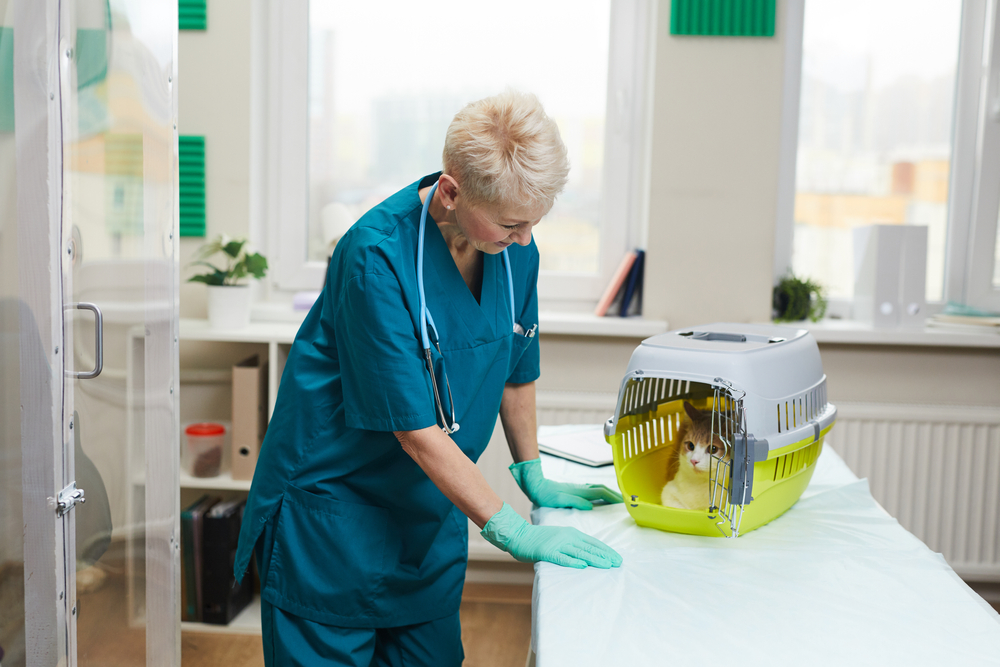 Studying to be a veterinary technician online no doubt gives you greater flexibility for completing your degree. However, getting an online education still requires time, work, and effort.
Featured Programs
One of the keys to being a successful online student is to strive for a good work life balance. This can be easier said than done when you work in veterinary medicine. With long hours, a work schedule that might change from one week to the next, and traumatic events like the death of animal patients, your work life can easily spill over into your personal life.
But with the tips outlined below, you will gain insight into the online vet tech program balance that includes self care, time for school, and tips for maximizing your time in the workplace.
1. Establishing a Healthy Work Life Balance for Veterinary Technicians
Understanding the importance of work life balance is critical to your success as a working student. Without compartmentalizing your work schedule and educational responsibilities, you risk poor performance at work, lagging with university studies, and perhaps even adverse effects on your mental well-being.
But simply understanding that you need to find a work life balance isn't enough. The next step is recognizing signs of an unhealthy balance.
For example, do you feel irritable at school or work or need more patience? Is there not enough time in the day to get everything done at the veterinary practice or in school? Are there physiological symptoms like headaches, fatigue, or inability to concentrate? These are just a few tell-tale signs that you need to address how you balance work with being a working student.
Techniques for Creating a Balanced Daily Routine
Fortunately, you can use many quick and simple techniques to address the specific signs that your work life balance needs help.
Set Manageable Goals
Perfectionism can be a trap in the work environment and at school. Lofty goals are great, but it's better to set realistic, manageable goals that you actually have time to achieve.
Ask for Help
Sometimes, asking for help feels like a failure or an imposition on others. Nothing could be further from the truth! Recognizing when you need help is a sign of strength and understanding your limits. Asking for help is one of the best tips for busy vet tech students to achieve a better work life balance.
Stay healthy
You need good mental and physical health to achieve a good work life balance. Do what you need to do to keep your body and mind in the best shape, be that regular exercise, identifying people you can talk to about stressors in your life, or something in between.
Give yourself time to unplug
There will always be something you can worry about. Do yourself a favor and give yourself time to unplug, unwind, and relax. Even a few short breaks over the course of the day to leave your phone behind and get some fresh air can do wonders for your physical and mental health.
Learn how to say no
If you want to manage work, life, study for your degree, and do it without being overstressed, you have to learn how to say no. You don't have to pick up that overnight shift for a colleague. You don't have to take on extra work for that group project. You don't have to spend your one day off during the week to help your friend move. If you're overloaded, it will negatively impact every aspect of your life. Saying no will help prevent that from happening!
2. Time Management Strategies for Online Veterinary Technician Students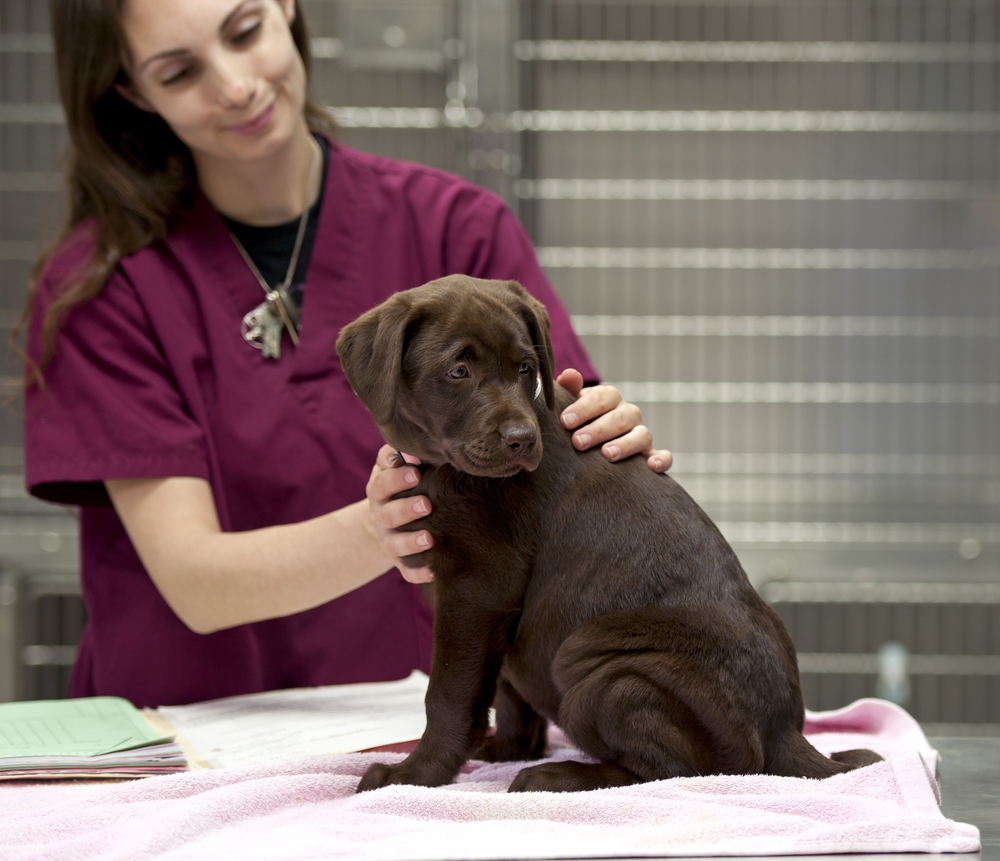 When you're working, going to school, and have a life to live, time can be very short. However, with some quick and easy time management tips for vet tech students, you can make the most of the time you have each day.
Scheduling tips for online vet tech students begin with prioritizing tasks and setting goals. This is perhaps the best thing you can do to be most efficient with your time. Rank the tasks you must accomplish each day in importance, and work on the most critical tasks first.
Not only does this strategy ensure you get things done on time, but it also allows you to put less important tasks on the back burner to address later in the day or even later in the week.
Goal-setting is another important part of time management and study strategies for online vet courses, but you need to do so in a way that helps you manage everything you need to do. For example, breaking down assignments into manageable chunks helps you identify what you need to do while also developing a sequence in which you need to do it.
You can use this same chunking strategy when you're at work to help you clarify what should be done and when and what tasks are most critical. Long-term goals are certainly important, but small, manageable goals are where it's at in your day-to-day work life!
Let's not forget that making the most of your free time is an essential component of time management. Free time allows you to unplug, destress, and recharge your batteries while juggling work and vet tech school. Whether you enjoy reading, working out, building things, or something in between, setting aside dedicated time to do something you want is just what you need to achieve a healthy balance between work, school, and life.
3. Combating Compassion Fatigue in the Veterinary Profession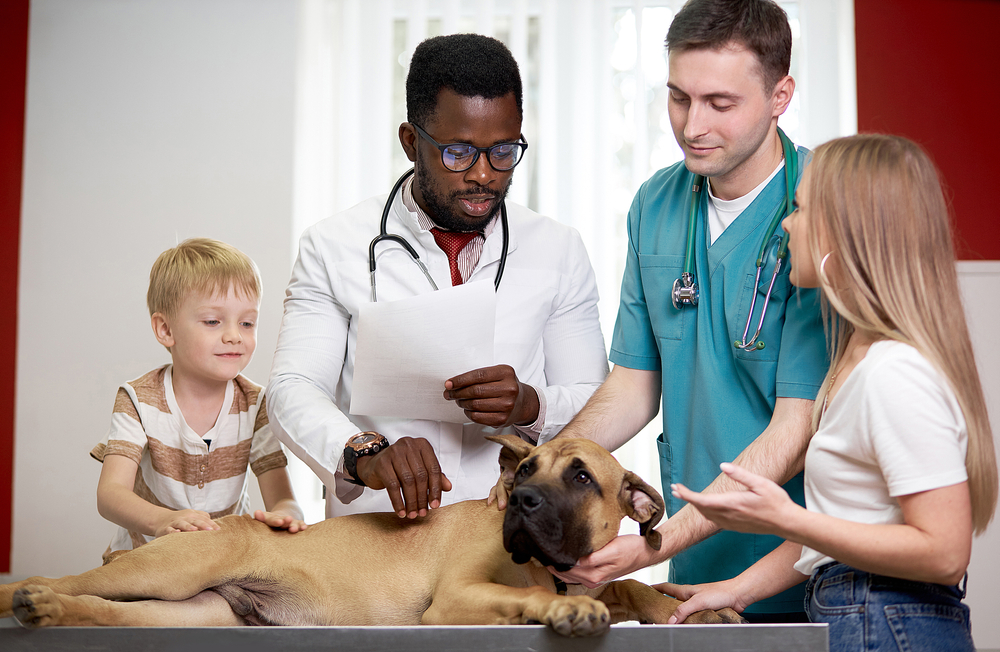 Compassion fatigue is a common condition in the veterinary profession. It occurs when you feel completely emotionally drained and have no empathy to offer your clients. This happens in medicine, mental health professions, and even among educational professionals, too.
The question is, what causes compassion fatigue?
Compassion Fatigue Defined
This profession attracts naturally empathetic people who want to help others – in this case, their animal patients and their owners. But as the exposure to illness, injury, veterinary emergencies, death, and euthanasia continue, your capacity for empathy can diminish. Think of it like the gas tank in your car – there's only so much fuel to keep you going.
Identifying Symptoms of Compassion Fatigue
Combating compassion fatigue starts with identifying its symptoms, which include:
Feelings of sadness
Increasing apathy
Nightmares or flashbacks about traumatic or stressful work-related experiences
Excessively complaining about your job
Feeling like you can't effectively express your emotions
Feeling mentally drained
Physical tiredness
Other symptoms might include physical ailments, difficulty concentrating, and isolation. In extreme cases, compassion fatigue might even lead to substance abuse, compulsive behaviors (e.g., overeating, nail biting), or a reduction in hygiene.
Self-Care for Combating Compassion Fatigue
If you suspect you might have compassion fatigue, the first order of business is to implement self-care strategies to address the situation. Some of the most useful strategies have already been mentioned above: stay healthy, give yourself time to unplug, and seek support from colleagues and friends.
Other strategies that can help you be more resilient and resist compassion fatigue include:
Meditation relaxes your body and mind to work through stress.
Mindfulness training helps keep you centered and focused on the present moment.
Practicing your religious beliefs can help you focus on the bigger picture.
Journaling about how you feel and what you experience at work can help you process your emotions.
Celebrating successes at work provides some levity to balance the negative experiences that cause compassion fatigue.
See Also: 10 Accredited Online Colleges in Veterinary
4. Finding the Right Veterinary Technician School for You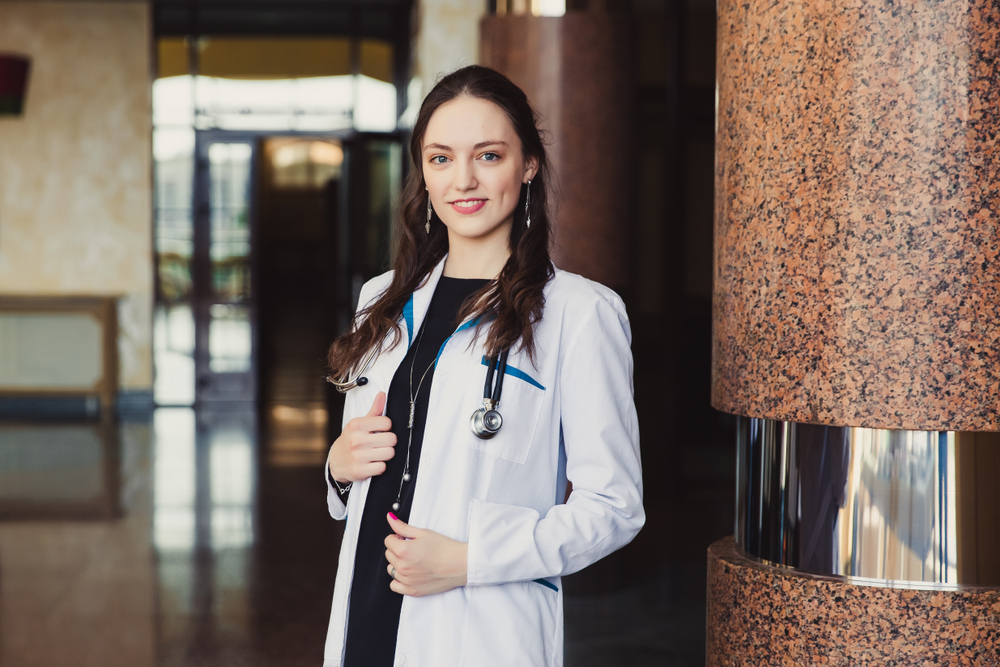 Another key to your success in vet tech school is to start on the right foot in a program that's right for you. But how do you do that?
There's a simple three-step approach you can utilize to screen schools for the best fit for your needs:
Researching Online Veterinary Technician Schools
Taking time to research allows you to determine what programs are available from what schools. With a specific career in mind, you can easily weed out the online programs that don't fit your occupational goals and concentrate on the ones that do.
Comparing Program Structures and Requirements
The program structure refers to features like how courses are delivered (e.g., synchronous or asynchronous), how long each class is (e.g., are classes in a traditional 16-week format or accelerated?), and the number of credits required to graduate. Also, consider whether a program has a field experience component. If so, do you have to complete this requirement at a specific site, or can you choose the site yourself?
Assessing School Support Services for Working Students
This is the final piece of the puzzle. You want an online program that offers easy access to your coursework and flexible deadlines that take your work responsibilities into account. If a school shows promise, call and speak to an advisor about their specific services that help you maintain a good work life balance.
There are other considerations when choosing the right school for vet techs – like the financial aid packages they provide, the degree's cost, and the program's and school's reputation. But the three steps outlined above are a good base for a more detailed search.
5. Building a Supportive Work Environment for Vet Techs
Veterinary technicians don't just need support at school – they also need a job environment that helps facilitate the necessary work life balance. Fostering a healthy work environment at your veterinary practice often involves taking simple, practical steps when you begin your studies.
For example, promoting open communication with colleagues and managers is critical to a healthy balance between school, work, and life. Your co-workers can only help you if they know what you need, so open communication has to start with you.
Keep your co-workers updated on upcoming school projects and exams that will take you away from the work setting. If you have field experience requirements, make arrangements with your supervisors to complete the field experience at the clinic (or another clinic).
If you need to leave work to study, communicate that well in advance. If necessary, make arrangements to work early or late to cover the time you'll miss or swap schedules with someone at work to accommodate your academic responsibilities better. By encouraging teamwork and collaboration, you can still do your job while going to school, and your co-workers can provide you with the help you need to be successful.
Also, make it a point to ask for advice and guidance as you work on your degree. If you already work in a veterinarian's office, you've got a go-to group of professionals who can help answer your questions, provide insights about the profession, and maybe even give you pointers on balancing work, family obligations, and your academic schedule.
6. The Importance of Self-Care for Veterinary Technicians
Most technicians in a veterinary clinic work long hours in a fast-paced work environment spending time with ill and injured animals and upset animal owners. It can be a very challenging job physically and emotionally, and not everyone is wired to handle those stressors well.
But you can prepare yourself for the rigors of this career with a little practice and guidance and set yourself up to balance work more effectively.
Incorporating Physical Activity Into Your Daily Routine
Veterinary technicians have plenty of physical activity over the course of a day at the clinic. But this type of physical activity – standing, bending, stooping, sitting, and so forth – isn't the type of physical activity needed to address self-care.
Instead, look for ways to break the physical routine of your work that can negatively impact how your body feels. For example, you might take one of the dogs boarded at the clinic for a walk or work with a horse in the corral. Alternatively, you might use part of your lunch hour to stretch, do yoga, or take a walk around the neighborhood.
What's important is that you move and do so consistently throughout the day. It's not about doing cardio or maxing out your bench press – those are things you can do at home after work. Just focus on mild physical activities to help relieve tension and stress throughout the workday.
Reduce Stress and Focus on Mental Health
Prioritizing mental health and stress reduction is also crucially important. If you're not in a good head space, your mental health can quickly drag down everything else in your life, from how you feel physically to how you perform on the job to your ability to avoid procrastination and get your schoolwork done promptly.
There are many easy strategies you can use to address your mental health and manage stress:
Talk to someone about how you're feeling. Talking about your stress and emotions can often help you feel better, even if the other person does nothing more than listen.
Identify your stressors to determine what's likely to trigger your stress or negative emotions. This allows you to avoid those triggers when possible, and when not possible, you can use coping strategies to mitigate the effects of the situation on your body and mind.
Avoid drugs and alcohol, which can exacerbate stress and reduce your overall mental health.
Ensuring enough sleep and proper nutrition is also crucial. Eat a well-balanced diet that includes fruits, vegetables, and whole grains. Eating well and getting adequate sleep make you feel better physically and help regulate your mood.
Learn time management skills, take time for yourself, and learn how to balance work with your other obligations by consulting guides like this.
See Also: 30 Cheapest Online Associate's Degree Programs
7. Adapting to the Challenges of Working and Studying Online
One of the best strategies to help create a work life balance is creating a dedicated workspace for online courses. Doing so has all sorts of benefits:
It helps get your mind and body into "school mode."
It helps compartmentalize academics from your home life.
It signals to anyone you live with that you're studying and shouldn't be disturbed.
It gives you a quiet space for focusing on your academics and staying organized in veterinary technician school.
Balancing work and study schedules is also necessary for achieving work-life balance as a vet tech student. Though online studies give you more flexibility than traditional classes on campus, you'll still have deadlines, virtual meetings, exams, and other obligations that might take time away from your normal work schedule.
Achieving this balance goes back to the earlier discussions about setting manageable goals, learning how to say no, and focusing on open communication at work and with the people in your life. So, for example, when you start school, be honest with your employer about adjusting your schedule. Offer to work a different shift to accommodate your studies. Alternatively, ask your professors if you can work on your assignments around your busy work schedule.
Of course, all sorts of technologies and online resources are available to help you adapt to the challenges of working and studying online. Most – if not all – online programs for veterinary technicians include ample online resources for working through your program more efficiently. These might include online quizzes, downloadable video lectures, or interactive notes that help you make quicker work of your studies.
Likewise, there are many different apps and other online tools for time management, focus and concentration, and even apps for helping you manage anxiety. You can also use apps to improve your organization, note-taking, and goal-setting.
As the saying goes, work smarter, not harder. By leveraging the power of online tools, you can do just that and equip yourself for balancing family, work, and vet tech studies.
8. Maintaining a Social Life While Pursuing a Veterinary Technician Education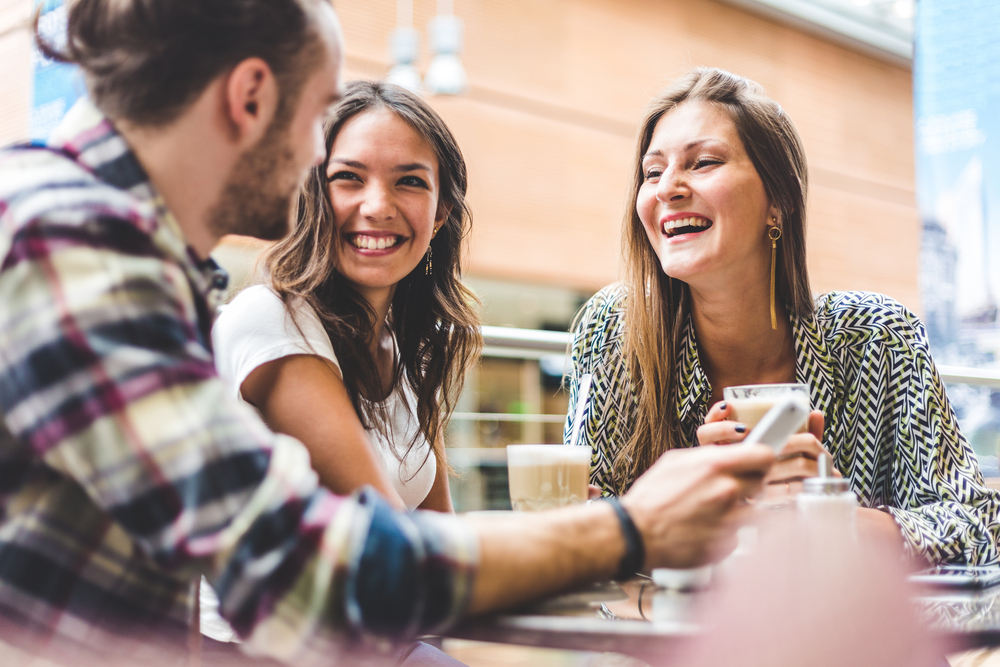 As noted in the online veterinary technician success tips above, including free time in your daily routine is critical to ensure a healthy work life balance. Part of that free time might consist of making time for friends and family to have dinner, play games, or go to the movies.
Planned and Unplanned Social Events are Helpful
You don't even have to have a planned activity – just getting together and enjoying time with your loved ones can do wonders for helping you cope with stress on a daily basis. The same is true of joining online communities and networking events. On the one hand, you have an online community built for you as an online vet tech student. You can interact with other students and your professors, ask questions, and get assistance as needed.
Networking Helps Build a Support System
Networking events can provide a similar support system. You can interact with experienced vet techs, inquire about common job duties and expectations in veterinary medicine, and even get insights into the day-to-day work life as a new technician.
Whether your networking events are in person or online, you can also ask for advice on developing a good work life balance. People with experience in the industry undoubtedly have tips and tricks that they use to deal with long hours at work, the demands of personal life, and getting an education all at the same time.
Don't Neglect Social Commitments
There's a need to balance social commitments with educational demands, too. You'll have personal engagements like birthdays, weddings, and graduations to attend. And these commitments will only sometimes occur at times convenient to your school schedule. The inverse is true as well.
This goes back to the earlier discussion of managing your time to maximize productivity at school and work so you can also maximize your free time. Delegate or ask for help when you can. Say no when you can as well. Identify what's most important and complete those tasks first. That way, you have as much free time as possible to participate in your social commitments.
9. Financial Planning and Budgeting for Vet Tech Students
Going to college is expensive, and the output of money required to get your degree can contribute to your feelings of stress. However, you can do a few simple things to make the financial aspect of getting a degree less stressful.
Develop a budget to pay bills and manage expenses. You might have to make sacrifices in your spending to afford your education. If you have to skip Starbucks to make your coffee and save some money, be willing to do it! Apps like Mint make it much easier to decide on and stick to a budget.
Exploring financial aid and scholarship opportunities should be high on your list of priorities. Look for scholarships and grants first, as neither has to be repaid. Apply for as many of these as possible to maximize your aid chances. Work-study programs might also be available, which allow you to earn money to pay for your technician schooling while getting relevant work experience for veterinary technicians. Student loans are also an option, though they must be paid back with interest, making them a more expensive option for financing your education.
Saving for continuing education (CE credit) and professional development should also be a priority. Typically, employers pay for additional training, but that isn't always true. Saving money as you go will make it easier to pay for these expenses to boost your job skills.
See Also: 15 Best Online Associate's Degree Programs
10. Managing Workplace Stress as a Veterinary Technician
Earlier, we discussed the need to identify stressors and concentrate on your mental health. It's such an important topic that it's worth visiting in more detail.
Veterinary technicians have a unique job with many different stressors. On the one hand, you'll have typical office-related stressors like answering phones and addressing client concerns. On the other hand, you have the difficult task of handling sick animals and working with grieving clients whose pets have died. All of these can be stressful on their own, but together, it's a potent cocktail that can be overwhelming at times.
By identifying these and other common stressors a new technician might face, you can prepare better for them. For example, if assisting with emergencies causes stress, discuss it with your co-workers and plan time to decompress afterward.
This is where developing coping mechanisms and stress-management skills comes into play. The more proactive you are in devising healthy ways to manage work stressors, the easier it will be to work in a veterinary practice while maintaining balance with the rest of your life. Use the common stress-busting strategies listed earlier in step six, or devise your own plans for dealing with stress in a healthy way.
Seeking help when needed is paramount, though. Sometimes stress is too much for us to handle on our own, and professional help is needed. Most colleges offer counseling services to students, so you might be able to get the help you need for free.
A professional can provide helpful information about managing anxiety, reducing stress, and identifying your feelings. You can also learn how to sense when your stress levels are rising, strategies for getting more rest, and ways of addressing compassion fatigue, to name a few.
11. Preparing for a Successful Career as a Veterinary Technician
Pursuing an education in this field, be it an associate's degree, a bachelor's degree, continuing education, or something in between, is only part of the story of developing a successful career. Instead, you need to complement your education with other components.
One of those components is getting relevant training or certifications that help you stand out from other job applicants. For example, The National Association of Veterinary Technicians in America offers a wide range of certifications, including veterinary anesthesia, dermatology, and dentistry, to name a few.
Another component is getting hands-on experience. If you already work as a vet tech or in another role in a veterinary office, you've got just what you need to start building a strong resume.
But, if you don't currently work in a veterinary office, you'll need to find ways to get the hands-on experience needed to get a job later on. The work-study option mentioned earlier is one route. Volunteering is another way to get some valuable experience. Of course, training programs for veterinary technicians have field experiences built into them.
When you combine your classroom learning and your hands-on experience, you'll have a strong resume for giving prospective employers that includes relevant skills like:
Handling animals with care
Completing office-related tasks
Having effective written and verbal communication
Understanding veterinary nomenclature and procedures
Of course, as discussed earlier, networking with professionals in the veterinary field will help you take the next step in your career as a veterinary technician. It's one thing to have the education, skills, and hands-on experience, but it only does you good if you can connect with people who need your skills! Establishing a network of professionals can help you parlay your experience into a rewarding career.
12. The Benefits of Achieving a Balanced Lifestyle for Vet Techs
Navigating online vet tech program challenges can be difficult work. However, there are many benefits to finding ways to balance your schedule between work, school, and life.
Not only will you have increased job satisfaction, but you'll also have a better sense of personal well-being. The strategies outlined in this guide will bring about the work life balance you seek that maximizes your ability to practice your profession, get an education, and make the most of time spent with family and friends.
A balanced lifestyle also helps improve focus and productivity at work, school, and home. You'll find that your improved time management, better productivity, and increased focus allow you to do more in each realm of your life – and in less time!
By taking care of your holistic work-school-life experience, you'll have greater resilience in facing challenges and setbacks. Instead of stress and anxiety boiling over at every turn, you'll be able to roll with the punches having the confidence to handle whatever is thrown at you.
Looking to the Future
Remember that everyone gets overwhelmed. But not everyone manages stress in the same way. Equipping yourself with strategies like those outlined here will make you more likely to manage work, school, and life and less likely to crash and burn. Sometimes, all that separates us from success and failure is a little preparation!
See Also: How to Know If an Online Program Is Offered by a Reputable College