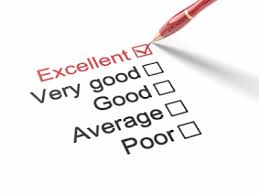 The market for online college courses has grown to the point where students have more choices than ever. For the most part, this is great news for degree-seekers looking for a convenient online program that's on par with a traditional campus education.
But, not all institutions may be as reputable as they seem.
The online education marketplace is rife with "diploma mills" that misrepresent their accreditations. These less-than-ideal schools might also embellish their academic standards. This is done to make students think the school is better than it is, boost enrollment, and make more money.
Fortunately, many of these diploma mills have gone by the wayside. Yet, there are still non-reputable online schools that you want to avoid.
To avoid investing in a trivial degree from a poor institution, you should do a bit of homework before enrolling in any classes. The tips below will help you determine if the school you're interested in is a reputable college or not.
Early Clues
Right off the bat, there are some easy ways to tell if the program you're interested in is legitimate.
First, if the university has a traditional campus and offers an established "brand" of education, then you can probably trust its online degrees. For example, most state schools, like the University of California, and renown private institutions like Northwestern, Columbia University, or New York University, all offer reputable online programs.
At the best colleges, online programs often closely mirror what's happening on campus. This means you'll have the same professor and the largely same assignments as students in face-to-face classrooms. You'll usually have the same tests, complete the same projects, and learn the same curriculum, too.
Obviously, there are some changes that must be made to a traditional class for online delivery. But, by and large, reputable colleges offer a learning experience that's highly similar to the on-campus learning experience.
Second, consider the methods by which a school recruits students. 
A major red flag is if an online college uses strong marketing tactics to try to get you to enroll.
If you show interest in a school, and then are bombarded with texts, calls, and emails, there's reason to be wary. One of the ways that non-reputable schools make their money is by enrolling students and pushing them to take out student loans. With huge marketing budgets, for-profit colleges can afford to pressure you into enrolling. In fact, in 2017, for-profit colleges spent $400 per student on advertising. By contrast, non-profit schools spend $48 per student and public schools spent $14.
A third warning sign is if an online college makes promises that seem too good to be true. "Easy classes," "graduate quickly," and "find immediate employment" are just some of the promises that less-than-reputable colleges promise to students.
Since these tactics are mostly used by lesser-known schools and for-profit colleges, these types of institutions may require a little more investigation on your part. The question is, where do you start?
See also: Most Affordable Accredited Online Associate Degree Programs
Look at a School's Graduation Rate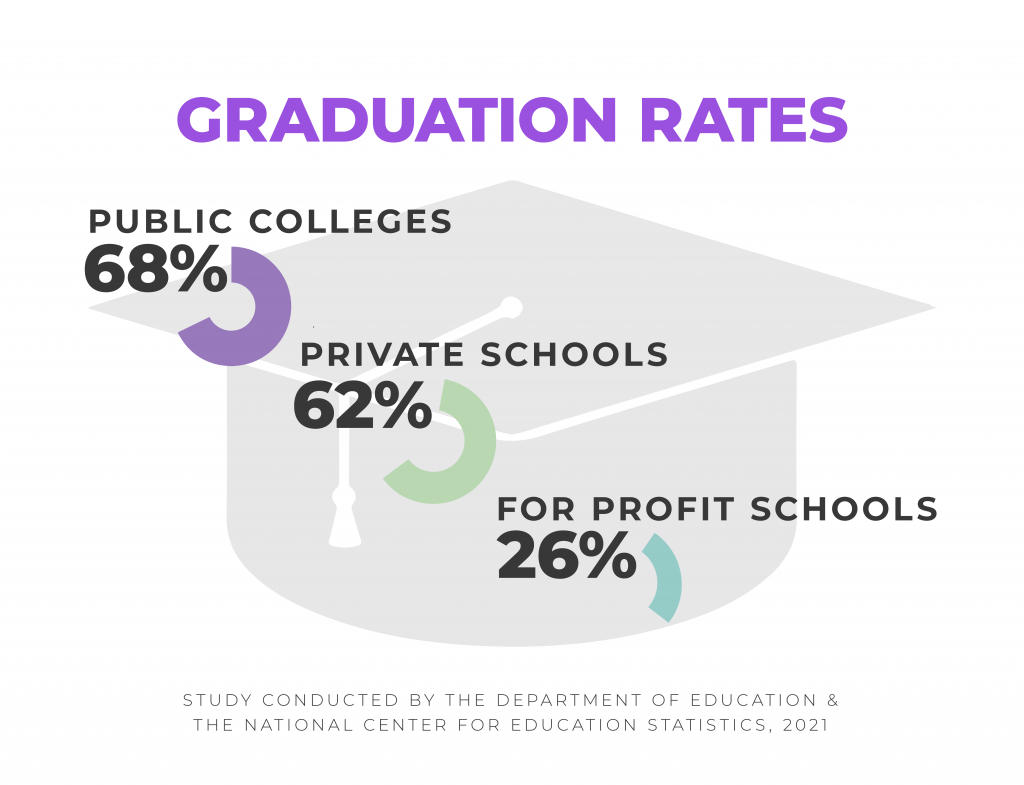 One of the indicators of the quality of a school is its graduation rate. According to a 2021 report by the Department of Education and the National Center for Education Statistics (NCES), the average graduation rate at public colleges is 62 percent. The graduation rate is even better at private non-profit schools at 68 percent. This is part of the reason why private schools are often counted among the best universities. 
For example, the California Institute of Technology (CalTech) has a graduation rate of 81 percent within four years. University rankings for graduation rate see Yale University and Harvard University consistently at the top. The former has a graduation rate of 88 percent after four years. The latter's graduation rate is 87 percent.
Meanwhile, the same NCES data shows a much different picture at for-profit institutions: the graduation rate is just 26 percent. That statistic won't get a university to the top of college rankings!
There are many reasons why a college student might not graduate, some of which have nothing to do with the quality of the school. However, many of the reasons why students fail to get their degree have a lot to do with the school they attend.
For example, one of the most common reasons why students don't graduate is a lack of academic support. Their professors might not be as available as they should, or the faculty ratio to students might be too large. The school might not have as robust tutoring programs as students need. There might be a push for you to take courses that don't count toward your degree, too.
These are just a few examples, but you can get a picture of what the experience might be like at a non-reputable online college. The best colleges provide everything you need to be successful.
See also: Top Accredited Online Colleges Low Tuition
What is the Retention Rate?
Another metric you can use to evaluate if a school is reputable or not is retention rate. This measure refers to the number of students that return to the same school for a second year of study.
If retention rate is high, it's reasonable to assume that a school provides what students need to be successful, and that the school is among the best colleges. If the retention rate is low, it's equally reasonable to assume that students left because the online college didn't have the support system in place to facilitate student success.
According to the NCES, the national average retention rate at four-year colleges is 64 percent. If the online colleges and universities you're considering fall below that mark, you might want to deepen your research about that school. 
See also: Top 30 Accredited Online Accounting College Degree Programs
Accreditation is Key
By getting accredited, colleges and universities can say they offer reputable degrees and a quality education. Accreditation is a voluntary process that should be handled by a legitimate outside authority that evaluates quality.
Unfortunately, as U.S. News & World Report discusses, bogus schools manage to find weak accreditation bodies that will put their stamp of approval on almost anything. These groups could have misleading names that sound more authoritative than they really are.
You might be wondering, "how do I know if my college is accredited?"
The best way to find out if an accreditation body is legitimate is to see if it's featured on the Council for Higher Education Accreditation's (CHEA) list of Recognized Accrediting Organizations. Any program that has been accredited by one of the recognized regional bodies will be in good standing.
CHEA's list includes several types of accrediting bodies. The most prestigious accreditation is the regional type, which is conferred by one of seven accrediting bodies:
Accreditation from a regional agency is the most common type. State universities, private colleges, and non-profit institutions are most commonly accredited on a regional basis. A few examples of regionally accredited universities include:
Johns Hopkins University
The University of Washington
Princeton University
Cornell University
Oklahoma State University
The University of San Francisco
If the online college you're interested in has accreditation from one of the agencies listed above, you can rest assured that the school is reputable. Your education will likely give you a good return on investment, too.
Colleges can also get accreditation from faith-based and institutional-based organizations. But, CHEA recognizes less than a half dozen of these bodies. CHEA also recognizes dozens of programmatic accrediting bodies. These organizations accredit specific programs like nursing, veterinary medicine, and education, to name a few. Other programs that might be accredited include:
Humanities
Computer science
Social sciences
Psychology
Forensic science
In some cases, you'll find that a school is regionally accredited and the program in which you're interested has programmatic accreditation as well. This is the best case scenario!
As a prospective student, beware of schools that boast of "international" accreditation. This is often an indication of a sham. CHEA does not recognize international accrediting bodies.
Also beware of nationally accredited programs. While national accreditation is a step up from international accreditation, it is still not as good as regional accreditation.
Part of the reason for this is because national accreditation is easier to get. The lower standards of accreditation mean that schools don't have to provide students with as robust a learning experience.
Additionally, CHEA doesn't recognize national accrediting agencies. For example, CHEA provides a list of national career-related accrediting organizations. While the agencies on the list are recognized by the U.S. Department of Education, none of them are recognized by CHEA.
Most colleges list their accreditations on their website. A simple Google search of the school's name and "accreditation" will find you a quick answer as to the school's status. If you can't find a school's accreditation, call the school and ask for its credentials.
As a rule of thumb, if you want to attend a reputable school, choose one that has regional accreditation.
See also: Top Online Accredited Schools Offering Associate Degrees
The Importance of Attending a Reputable School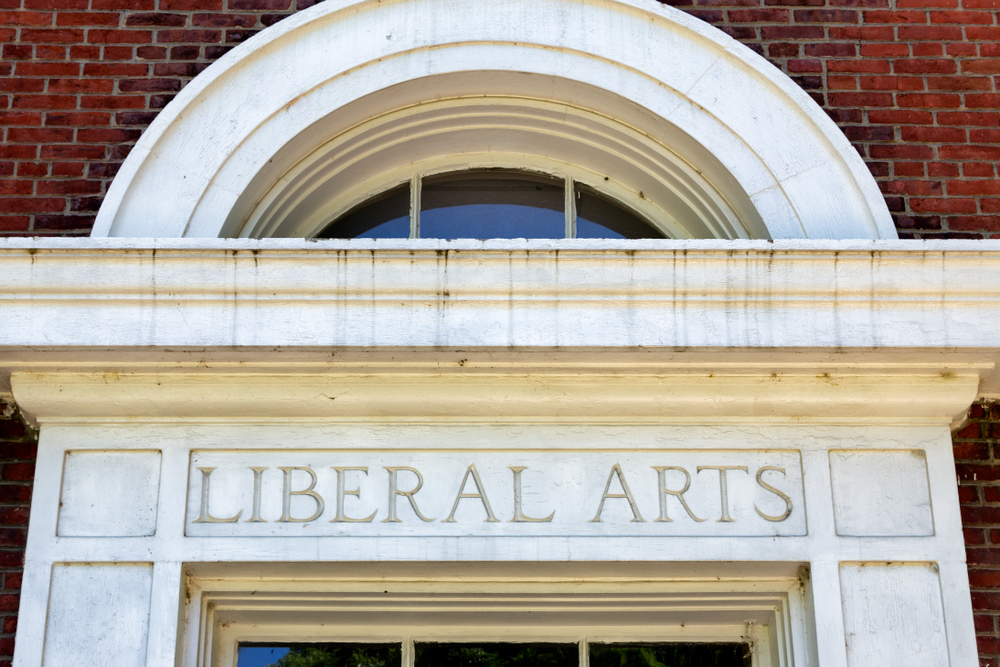 Enrolling in a liberal arts higher education is a major investment. Not only will you be paying tuition, you'll be investing a lot of time and effort toward graduating.
A student's worse nightmare is to receive a diploma that isn't taken seriously. Sadly, many online college graduates have gone through this scenario. A degree from an unaccredited school won't do much for a resume or during a job interview.
Non-reputable institutions pose other problems as well. Tuition costs could be hazy and most colleges won't take transfer credits from schools that aren't regionally accredited. In addition, your state education agency may not offer financial aid if you attend an unaccredited school.
There are plenty of excellent online programs available from both non- and for-profit institutions. For example, the University of Arizona has a global campus (UAGC) for students around the world. Is UAGC accredited? Yes! UAGC accreditation is by the WASC Senior College and University Commission (WSCUC). So, a UAGC diploma is viewed as being reputable.
Other example questions you might have might include "is Strayer University legit?" and "is SNHU reputable?"
From an accreditation standpoint, Strayer University (which is in Washington, D.C.) is legitimate. It's accredited by the Middle States Commission on Higher Education, which is one of the seven regional accrediting bodies recognized by CHEA. 
SNHU – or Southern New Hampshire University – is also legitimate. It's accredited by the New England Commission of Higher Education.
So, legitimate, reputable colleges aren't limited to well-known or Ivy League Schools like the Massachusetts Institute of Technology (MIT) or the University of California at Los Angeles (UCLA). Sure, top universities like Stanford University, the University of Chicago, and the University of Pennsylvania (Penn) offer top-tier educations. But state schools like the University of Michigan at Ann Arbor, the University of North Carolina at Chapel Hill, and the University of Wisconsin are reputable and offer you the chance for an academically-rich education.
With a little bit of research, you'll be able to weed out the bad schools and save yourself from potential heartache.
See also: Top Accredited Schools Offering Online Masters Degrees