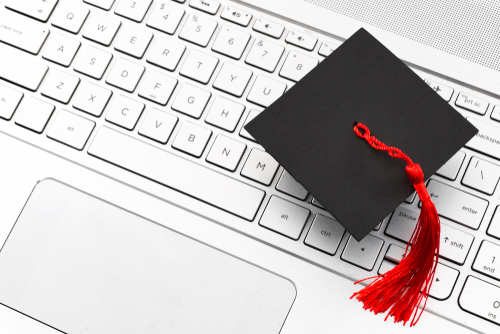 Online associate degrees are two-year, lower-division undergrad programs that use internet classrooms to prepare for the workforce or launch bachelor's transfers. Earning an associate online is an attractive option for high school grads or GED recipients. First, Rasmussen University found an associate degree makes you eligible for 134 percent more postings or over 6.3 million jobs. Associate curricula is packed with more career-oriented and less liberal arts courses. Reaching graduation takes just 24 months instead of 48, or even less if accelerated online, to reduce your likelihood of study disruptions. Getting an online associate boosts median pay from $25,636 to $41,496 according to SmartAsset. But most importantly, online associate tuition is considerably lower to avoid racking up big debt. The majority bill less than the average cost per credit of $594 on Student Loan Hero. In this article, we'll list some of the most affordable online, accredited associate degree programs that maximize your investment.
See Also: Top 30 Accredited Online Accounting College Degree Programs
Washtenaw Community College
Ranked in Community College Week's top 50 for tech services, Washtenaw Community College is a public, HLC-accredited junior institution and Pacemaker Award winner in Ann Arbor that's grown since 1965 to admit 13,000 Wolves with 100 percent acceptance. On Blackboard Learn, undergrads access cheap, asynchronous courses costing just $115 per credit for 18 associate degrees. Consider earning Washtenaw's Construction Supervision AAS, Retail Management AAS, Industrial Training AS, Liberal Arts Transfer AA, or Business AA entirely online.
See Also: 10 Accredited Online Colleges for Diagnostic Medical Sonography
McHenry County College
Founded in April 1967, McHenry County College is a two-year, coed "Military Friendly" state school and the SR Education Group's sixth cheapest choice that expands beyond Crystal Lake, Illinois, to serve nearly 60,000 people across 93 programs. Online students spend only $107 per credit on Nelnet payment plans to access nine flexible associate degrees via Canvas. Great options include McHenry's Accounting AAS, Criminal Justice AAS, Computer Network Security AAS, Administrative Office Management AAS, and Associate in General Education.
Shoreline Community College
Enrolling over 10,000 Dolphins from 50+ nations, Shoreline Community College is a public, coed NWCCU-accredited junior school with a 26-building King County campus outside Seattle that's won the 2011 Bellwether Award and 2017 Toyota T-Ten Award. Ranked #1 in Washington, the Virtual Campus delivers 15 online associate options reasonably billing $117 per credit on Blackboard Collaborate. Perhaps pursue Shoreline's History AA, Psychology AA, Health Information Technology AAS, English Literature AA, or Supply Chain Management AAS at a distance.
See Also: 30 Cheapest Online Associate's Degree
Cochise College
Given the 2017 EBSCO Learning Resources Leadership Award, Cochise College is a public, Hispanic-serving undergrad institution in Sierra Vista, Arizona, that's ranked 121st nationally by Niche for effectively teaching 8,000 Apaches with HLC accreditation. Celebrating its 20th year, the Virtual Campus specifically attracts 2,500 to Moodle for 12 online associate degrees priced at $133 per credit. Check out Cochise's cheap AA Philosophy, AAS Programming, AA Economics, AA Social & Behavioral Sciences, or AAS Intelligence Operations Studies degree.
See Also: Top 30 Accredited Emergency Management Degree Online Options
Northeast Community College
Awarding $12.12 million in annual aid, Northeast Community College is a public, HLC-approved junior system and 2017 Aspen Prize finalist based in Norfolk, Nebraska, that's ranked 130th countrywide on Niche by training 13,512 Hawks for 98 percent job placement. On Canvas, students are charged $134 per credit for 16 affordable online associate programs accessed anywhere. The excellent choices include Northeast's Agriculture AA, Law Enforcement AA, Early Childhood Education AA, General Studies AA, and Administrative Professional AAS.
Dakota College at Bottineau
Budgeting $3.78 million, Dakota College at Bottineau is the public, two-year NDUS polytechnic affiliate of Minot State University, America's 24th top online school on Niche, that's HLC-accredited in the Turtle Mountains to grant 25,526 total credits yearly. The Blackboard classroom has 45 percent student retention in 100+ courses and 17 fully online degrees charging just $150 per credit. Look into Dakota's Child Development AAS, Liberal Arts AA, Urban Forest Management AS, Advertising & Marketing AAS, Recreation Management AAS, and more.
Big Sandy Community & Technical College
Bestowed the 2017 NACCE EntreEd Grant, Big Sandy Community & Technical College is Kentucky's sixth best public, two-year learning hub on Niche that's led by Dr. Anthony Newberry in Prestonsburg to support 4,715 for-credit Owls. Undergrads picking from 22 SACS-accredited associate degrees in the Online Division presently pay $169 per credit with funds like the Berlie & Jane Salmons Scholarship. Cheap tracks include Big Sandy's AAS Energy Management, AAS Paralegal, AAS Mining Technology, AAS Marine Logistics Operations, and AAS Human Services.
The lucky seven schools featured above just scratch the surface of cheap undergrad learning available 100 percent on the World Wide Web. Other high-quality yet affordable online associate degree programs are found at Atlanta Technical College, Great Basin College, Fox Valley Technical College, Clovis Community College, Perimeter College, Illinois Central College, Foothill College, and Fayetteville Technical College for under $200 per credit too.
Related Link
The Most Affordable Accredited Online Associate Degree Programs