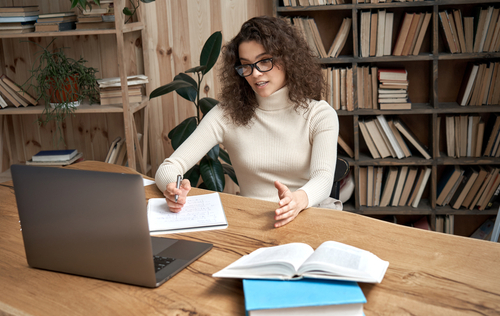 Tuition dollars are increasingly a determining factor in where college students study. The U.S. News reports that tuition has risen by 179 percent at private and 296 percent at public, in-state institutions since 1995. Time Magazine shows that the published sticker prices reached all-time highs of $24,610 at public and $45,370 at private colleges in 2016. Since shrinking financial budgets don't mix well with schools' mushrooming costs of attendance, students are looking to cut expenses by learning online. Ranked online bachelor's programs have a mean price of $286 per credit. Virtual college courses can also cost much less by slashing campus fees, housing, meal plans, parking, and transportation. Some learners may worry that the cheapest accredited online colleges won't provide a good education, so let's relieve this fear.
Featured Programs
See Also: Top Easiest Master Degree Online Programs
How Cheap Online Colleges Compare
Cheap online colleges certainly won't have the prestige of Ivy League schools like Dartmouth, but they can still deliver great degrees if they're regionally accredited. Regional accreditation from one of six CHEA-recognized agencies certifies that the online school meets the quality standards stipulated by the U.S. Department of Education. However, nationally accredited online colleges are less desirable because they often won't qualify for federal financial aid, credit transfer, or certification exams. For-profit online colleges also receive a bad reputation for putting investors before students and hiring less experienced instructors to execute predetermined lesson plans. According to the NCES, for-profit schools have a low graduation rate of 23 percent. Regionally accredited online colleges operating on a nonprofit model generally provide the best education cheap.
See Also: Top Easiest Master Degree Online Programs
Examples of Accredited, Affordable Online Schools
We don't believe in sacrificing quality for affordability, so let's review some of the cheapest accredited online colleges providing good education for cost-conscious learners. Each of the following tuition rates was recorded based on 2016-17 averages from the NCES database. Our favorite online schools where well-respected degrees cost less dough are:
• Brigham Young University-Idaho – Opened in Rexburg by the LDS Church in 1888, Brigham Young University-Idaho is ranked the West's 13th best college by the U.S. News and America's 34th best online college on Niche. For $3,920 yearly, online BYU students could pursue 19 degrees, including the B.S. Software Engineering, A.A.S. Family History Research, and B.S. Healthcare Administration.
• Alcorn State University – Enrolling 3,720 as a public, land-grant HBCU in Mississippi's Claiborne County, Alcorn State University is ranked the South's 95th best college by the U.S. News with America's 200th best professors on Niche. For $5,269 annually, Alcorn students choose from good online degrees from the M.S. Workforce Education Leadership to the Master of Business Administration.
• West Texas A&M University – Located in the Amarillo Metro since 1910 with a $138 million budget to educate 9,901, West Texas A&M University is ranked the West's 81st best school by the U.S. News and America's 232nd top public university on Niche. For $7,699 per year, online WTAMU students pursue 13 fully online degrees like the RN-BSN and Criminal Justice B.S.
See Also: Cheapest Online Business Degree Programs for Undergrads
Financial Aid for Cheaper Online Study
America's cheapest, accredited online colleges can become even more inexpensive when you pursue financial aid. Before the FAFSA deadline of June 30th, apply for federal funds like the Pell Grant, Iraq and Afghanistan Service Grant, or William D. Ford Direct Loan. Search your state's education department for programs, such as the Michigan Educational Opportunity Grant and Georgia HOPE Scholarship. Some online schools, including SUNY Empire State College, let students receive Federal Work-Study jobs off-campus. Plus, here are a few scholarships reserved for students studying online.
• SR Education Group Scholarship for Women – Worth $5,000, the SR Education Group Scholarship for Women is granted annually to female undergrads and post-grads who are attending nonprofit online colleges for a degree or certificate. Online applications must be submitted by September 30th with 500-word essays to two open-ended prompts.
• Jane Ireland Student Fund Scholarship – Ranked #1 by the USNWR, the Penn State World Campus created the Jane Ireland Student Fund Scholarship to support online undergrads who've completed 24+ credits of their bachelor's or associate degree. Those with an overall GPA above 3.2 and unmet financial need can apply until September 22nd.
• GetEducated.com Online College Scholarship – Called the "Diploma Mill Police," GetEducated.com offers the $1,000 Online College Scholarship twice yearly to enrich financial aid for students at distance schools in the USA. Before October 15th or March 15th, applicants with a minimum 3.0 GPA can submit their 500-word goals essay and FAFSA form.
Shopping Checklist for Good Online Colleges
High prices don't guarantee high quality, while cheap tuition won't mean cheap quality. Begin your online college search by eliminating unaccredited diploma mills that don't have legitimate approval from regional agencies. Narrow down online schools offering your chosen major with ample technical and advising support. Inquire about financial aid packages that will lower published tuition rates. Scrutinize online student reviews for insider's information about their experience. Consider online degree rankings to ascertain which schools are the best of the best. Ask important admission questions about the program length, college history, graduate employment, credit transfer, and course platform. Putting in research time will boost your chance of getting great online education cheap.
Related Links
The Top 15 Accredited Online Colleges Without An Application Fee