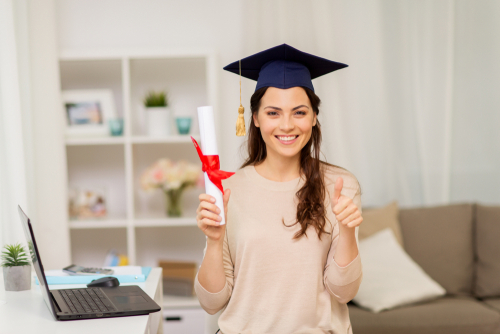 Featured Programs
Online graduate degrees are attractive options increasingly offered by accredited colleges to support post-bachelor's adults seeking professional advancement with less fuss. The SR Education Group has counted nearly 600 schools housing over 12,500 graduate programs online in wide-ranging fields. Studying on the World Wide Web from home lets you keep working full-time, resolve scheduling conflicts, attend universities afar, get personalized mentoring, and avoid campus overhead costs. Making graduate school more accessible is crucial since the Georgetown CEW predicts that 6 million jobs will require a master's or higher by 2020. Graduate degrees also provide median lifetime earnings that are $1.5 million higher than high school diplomas according to the Social Security Administration. Let's look at some great examples of where you can get a graduate degree from an accredited college online.
See Also: Top 30 Accredited Online Accounting College Degree Programs
Adams State University
Adams State University, the West's 184th best bang for the buck in Washington Monthly, is a public, Hispanic-serving liberal arts school founded in 1921 by Governor Billy Adams that's educating 3,467 Grizzlies at its Colorado campus and on Blackboard. The Extended Studies Division offers 12 HLC-accredited graduate programs online, including the Master of Arts in Music Education, Master of Arts in Humanities with U.S. History Emphasis, Master of Business Administration, and Ph.D. in Counselor Education & Supervision.
Canisius College
Canisius College, Forbes' 246th top private university in America, is a private, Jesuit liberal arts AJCU member named for St. Peter Canisius in 1870 that's carrying a $110.5 million endowment to serve 3,900 Golden Griffins both in Buffalo's Hamlin Park and on Desire2Learn. The School of Graduate Studies grants 12 rigorous, MSCHE-accredited online programs, such as the Master of Science in Respiratory Care, Master of Science in Sport Product Management, Master of Science in Anthrozoology, and Master of Education in Literacy.
Illinois Institute of Technology
Illinois Institute of Technology, the 99th best U.S. value in Money Magazine, is a private, STEM-centric research institution opened in 1890 that's endowed for $235 million under president Alan Cramb to enroll 7,266 Scarlet Hawks online and on-site in Chicago's Bronzeville district. The Office of Digital Learning confers 23 HLC-accredited programs like the Master of Science in Biology, Master of Food Process Engineering, Master of Chemistry in Analytical Chemistry, and Master of Intellectual Property Management on Blackboard.
Winthrop University
Winthrop University, America's 43rd best standout college on Niche, is a public, coeducational civic-engaged Big South member that's endowed for $42.8 million to employ 304 faculty who instruct 6,073 Eagles face-to-face at its Charlotte Metro campus or online. On Blackboard, the Graduate School delivers seven-week, SACS-accredited courses to complete four master's offerings: the Master of Arts in Arts Administration, Master of Social Work, Master of Business Administration, and Master of Education in Special Education Intervention.
Accreditation is the first step to finding the right online graduate school fit and steering clear of diploma mills. Utilize the Council on Higher Education Accreditation directory to double check colleges' claims of regional or national approval. Access databases like the NCES College Navigator or Peterson's to locate online master's and doctorates in chosen fields. Review online rankings from the U.S. News & World Report to learn which colleges are the best of the best. For each prospective school, evaluate curricular features like accelerated courses, internships, and capstone projects. Remember that financial aid, student-faculty ratio, job placement, salary potential, and admission selectivity are other important factors when looking to get a graduate degree from an accredited college online.
Related Links