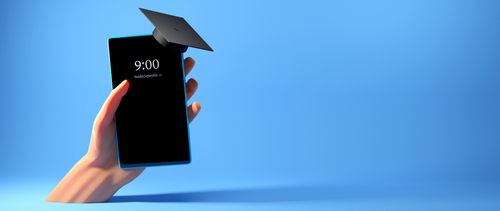 Featured Programs
People use Twitter for a whole host of different reasons, and while for some it may be a way to follow the lives of celebrities like Miley Cyrus and Justin Bieber, for others it's a tool for connecting with the world and accessing valuable, immediate information. Twitter has achieved a lot since it was founded in March 2006 – most notably, perhaps, it played a key role in the 2011 Egyptian Revolution – and many high-profile intellectuals and other important figures have joined the tweeting community. The following university professors use their 140-character-limit tweets to share their thoughts, knowledge and expertise and keep their followers up to date with their various pursuits around the globe. As such, their feeds are arguably essential reading for anyone hungry for a well rounded and insightful social media experience. Here are 30 of the most influential college professors on Twitter.
30. Jennifer Aaker
@Aaker
In 2005 author and social psychologist Jennifer Aaker became General Atlantic Professor of Marketing at Stanford University's Graduate School of Business. Her fields of expertise include wide-ranging subjects such as the way ideas can be spread rapidly via social media; the links between time, money and happiness; and ways to develop worldwide brands. In 2010 Aaker co-wrote award-winning social media insight book The Dragonfly Effect: Quick, Effective and Powerful Ways to Use Social Media to Drive Social Change. And in 2013 Social Media Marketing Magazine ranked her at number 12 out of 100 on its Top Marketing Professors on Twitter list.
29. Lucy P. Marcus
@lucymarcus
When self-proclaimed "thinker/doer" Lucy P. Marcus made TIME's Best Twitter Feeds of 2013 list, the magazine described her as a "renaissance woman [who] tweets about global business and advancing women in the corporate realm." Marcus is the CEO and founder of consulting company Marcus Ventures and a high-profile columnist and contributing writer. In 2011 she became the Professor of Leadership and Governance at Madrid's IE Business School. She's also an expert on topics such as economic trends, private equity and technology and has been included on a number of lists, including Britain's 50 Most Powerful Women from Management Today, 10 Women Changing the Direction of British Business by Business Age, and Reuters & Klout's 50 Most Influential Execs on the Web.
28. Daniel Drezner
@dandrezner
Daniel Drezner is Professor of International Politics at Tufts University's historic Fletcher School of Law and Diplomacy – and he's Twitter mad. Drezner describes himself as a "zombie expert seeking intellectual company on the Web," and his 2010 book Theories of International Politics and Zombies uses the accessible pop culture notion of a zombie apocalypse to explore ideas about international policy. In 2012 TIME listed Drezner's as one of its 140 Best Twitter Feeds, explaining that his "tweets inform conversations around the web focusing on politics and security policy."
27. Marcus du Sautoy
@MarcusduSautoy
London-born professor Marcus du Sautoy is a mathematician who holds Oxford University's current Simonyi Professorship for the Public Understanding of Science. He's also a fellow at the university's New College constituent, the president of the Mathematical Association, and a keen soccer player and trumpet enthusiast. Perhaps due to his extensive television appearances and bestselling books, as well as his work for math gaming site Mangahigh.com, du Sautoy has been credited for popularizing mathematics. According to du Sautoy, "The invention of the number zero was a very modern concept – seventh century A.D. by the Indians. It seems mad to talk about nothing." No wonder his must-read Twitter feed is entertaining and full of interesting info.
26. Gabe Feldman
@SportsLawGuy
Before he became part of the faculty staff at New Orleans' Tulane University Law School in 2005, Gabe Feldman was a gifted lawyer working with Washington, D.C.-based law firm Williams & Connolly. Nowadays, he's Tulane's program director of sports law – his favorite legal field. In 2011 Feldman became well known when he weighed in on the NFL's labor dispute saga. And in 2013 he made Sports Illustrated's Twitter 100 list for the third time in a row. "Feldman… helps cut through the noise with smart tweets and links on the growing world of sports law," wrote the magazine.
25. Patrick Strother
@PatrickStrother
Web-savvy professor Patrick Strother joined his alma mater the University of Minnesota as a visiting professor in 1998, and at present he lectures courses in advertising and public relations there. Before that, in 1992, he founded marketing and PR company Strother Communications Group, which aims to provide "differentiated marketing and PR services to clients by offering a more efficient, integrated approach to communications." In 2013 Social Media Marketing Magazine ranked Strother sixth on its list of the Top Marketing Professors on Twitter.
24. Rebecca MacKinnon
@rmack
Internet freedom activist and Global Voices Online co-founder Rebecca MacKinnon took on a major role in 1998 when she was appointed as CNN's Beijing bureau chief. Then three years later the former journalist took over as the channel's Tokyo bureau chief. After assuming several academic positions at home and abroad, in 2010 MacKinnon become part of the Center for Information Technology Policy at Princeton as a visiting fellow. In 2012 she published Consent of the Networked: The Worldwide Struggle for Internet Freedom, which The Wall Street Journal called "an excellent survey of the Internet's major fault lines." MacKinnon is currently a law lecturer at The University of Pennsylvania. Needless to say, her Twitter feed is essential browsing for anyone interested in internet privacy and online freedom.
23. Alan Rosenblatt
@drdigipol
Web age pioneer Alan Rosenblatt describes himself as "the first digital politics professor ever." At present, he is a partner at Washington-based communication company Turner Strategies, a visiting professor at Baltimore's Johns Hopkins University, and an adjunct professor at a couple of other leading academic institutions. In 2010 Rosenblatt explained that "more than television, Twitter and other social media technology are speeding up the process of mobilizing people across time and distance to take action." His Twitter feed offers a unique take on modern politics injected with humorous social commentary and a healthy dose of sarcasm.
22. Madeleine K. Albright
@madeleine
Former Secretary of State Madeleine Albright made headlines in 2013 when she finally joined Twitter. "First of 3 female SecStates – last to join Twitter. Better late than never!" she tweeted on September 23. The septuagenarian's message was accompanied by a picture of her wearing a brooch that featured a bird and the word "TWEET." Since then, Albright has racked up over 41,000 followers and posts regular updates about her work as the Council on Foreign Relations' current board director, as well as tidbits about her personal life. Albright is the Mortara Distinguished Professor Of Diplomacy at Washington, D.C.-based Georgetown University.
21. Alec Couros
@courosa
Professor Alec Couros teaches educational technology and media at Canada's University of Regina, and unsurprisingly he is seriously plugged into the world of social media. Couros' About.me profile includes buttons linking to his Twitter, Facebook, LinkedIn, Flickr, WordPress, YouTube, Instagram, Google+ and Foursquare accounts. As a tech expert with his mouse finger on the pulse, Couros realizes the importance of the internet's social characteristics. He describes Twitter as a kind of "idea collision" platform, giving rise to concepts that are "much bigger than we could have ever dreamed of." According to Couros, "There's a richness in those 140 characters that can lead us to all sorts of detours and paths."
20. Rosabeth Moss Kanter
@RosabethKanter
Rosabeth Moss Kanter is the current Ernest L. Arbuckle Professor of Business Administration at Harvard Business School. As a researcher, Kanter is well known for her theories on tokenism, and according to Harvard, she "specializes in strategy, innovation, and leadership for change." Kanter has regularly been featured on lists like Thinkers50's biennial rundown of the world's 50 most influential management thinkers, and her Twitter feed is jam-packed with leadership tips and workplace-related insight. In 2009 Amazon featured Kanter's book SuperCorp: How Vanguard Companies Create Innovation, Profits, Growth, and Social Good on its ten best business books list.
19. Mary Beard
@wmarybeard
Mary Beard earned her Ph.D. at Cambridge University and has been lecturing there since 1984, becoming Professor of Classics in 2004. The author of numerous books, Beard also has a string of BBC appearances to her name, and her media presence has led to her being dubbed "Britain's best-known classicist." In recognition of her contributions to classics, in 2013 she even received an OBE. As well as frequently updating her "tweeps" on news and her fields of expertise, Beard has also used the social networking site to fight back at trolls who directed abusive remarks and death threats her way. After she and several other high-profile women suffered threatening tweets in 2013, Twitter responded by announcing that it would update its rules and bring in a "report abuse" button.
18. Gary Schirr
@ProfessorGary
Professor Gary Schirr teaches marketing at Virginia's Radford University and describes himself as a "social media fanatic." He has over 70,500 Twitter followers, and he is also passionate about blogging and social media marketing. In 2013 Social Media Marketing Magazine ranked Schirr third on its list of the Top Marketing Professors On Twitter. According to the magazine, "These are the top 100 marketing professors around the world who 1) provide useful content, 2) consistently engage with their followers, 3) truly 'get it' when it comes to the best ways to use Twitter."
17. Mark Schaefer
@MarkWSchaefer
Author, professor and social media guru Mark Schaefer wrote the book on Twitter – literally. In 2010 Schaefer self-published bestselling Twitter guide The Tao of Twitter: Changing Your Life and Business 140 Characters at a Time. Then in 2011 TweetSmarter listed Schaefer as its Global Twitter User of the Year. And in 2012 Forbes included him on its list of Top 50 Social Media Power Influencers. Schaefer is currently an adjunct marketing professor at Rutgers University and lectures at prestigious schools such as Oxford, Princeton and New York University.
16. Clayton M. Christensen
@claychristensen
Thanks to his ideas on "disruptive innovation," economist, author and business expert Clayton M. Christensen has been described as a "disruption guru." Christensen became part of Harvard Business School's faculty staff in 1992 and is currently the Kim B. Clark Professor of Business Administration there. According to Harvard, he is considered among the "world's top experts on innovation and growth." Moreover, in spite of serious health concerns that arose in 2010, Christensen is still teaching, writing and tweeting. In 2011 he topped Thinkers50's rundown of the 50 most influential business thinkers in the world, and he held on to the number one spot two years later.
15. Michael E. Porter
@MichaelEPorter
Author and esteemed management consultant Michael E. Porter is a major figure in the field of corporate strategy and an expert on the ways in which countries and more local zones are able to compete economically. In 1973 Porter earned a Ph.D. in business economics at Harvard University, and he returned in 2000 to take a position at Harvard Business School as Bishop William Lawrence University Professor, which is one of the institution's most prestigious faculty roles. His published work deals with company strategies and competition, and he is apparently cited more than any other business author. Porter is also the chairman of a Harvard Business School program designed to help new CEOs of giant companies.
14. Steve Blank
@sgblank
All budding entrepreneurial tweeters should follow California-based startup guru Steve Blank. Thanks to his early Silicon Valley insight and insider angle – which he spoke about at a Google Tech Talk in 2007 – plus the role his "customer development" method played in the lean startup approach, Blank is a celebrated entrepreneur with a lot of useful information to share. In academia, he works as a consulting professor of entrepreneurship at Stanford University and teaches at Columbia University, the Haas School of Business, the University of California Berkley and the California Institute of Technology.
13. Anne-Marie Slaughter
@SlaughterAM
Anne-Marie Slaughter is Princeton University's Bert G. Kerstetter '66 University Professor Emerita of Politics and International Affairs and an academic who fully realizes the role social media – and Twitter in particular – plays in forging communities. "Social media allows you to construct multiple communities at once," she has explained. "Most people think of it [Twitter] as, you know, you're following Lady Gaga. The journalists understand that it allows you to create customized information communities where you can get real-time links to articles you'd never otherwise see." An expert on international law and political science, Slaughter has also lectured at Harvard and the University of Chicago. In 2013 she was unveiled as the new president of U.S. public policy think tank the New America Foundation.
12. Marion Nestle
@marionnestle
In 2011 Marion Nestle, New York University's Paulette Goddard Professor of Nutrition, Food Studies and Public Health, was included in TIME's 140 Best Twitter Feeds list. "When journalists need to understand how an agricultural policy or nutrition guideline will affect public health, they call Marion Nestle. So you may as well go straight to the source on her Twitter feed," wrote the magazine. "Nestle has an unparalleled ability to parse USDA reports and cut through the hype to deliver sane, informed nutritional information you can use," it added. Her feed is full of interesting news reports and information for anyone fascinated by health and food.
11. Jay Rosen
@jayrosen_nyu
Iconic media critic Jay Rosen has been teaching journalism at New York University – where he achieved his Ph.D. – for almost 30 years. His writing often deals with changes in media and journalism in the new digital age, and he has been published in high-profile outlets like The New York Times, Harper's Magazine and the Los Angeles Times. In 2012 Rosen made TIME's 140 Best Twitter Feeds list; "Rosen is the professor every college student in the country wishes they had. He understands that a digital revolution is striking all industries, not just journalism," wrote TIME.
10. Andrés Silva Arancibia
@andressilvaa
In 2013 entrepreneur, author, consultant and motivational speaker Andrés Silva Arancibia topped Social Media Marketing Magazine's list of the Top Marketing Professors On Twitter. Since 2010 Silva Arancibia has worked as a professor of marketing, e-commerce and technology at Andrés Bello National University in Santiago, Chile. He is also the founder of BlogMarketingChile.com and holds various other noteworthy social media marketing positions. It goes without saying that his social media posts are essential reading for any budding marketers.
9. Glen Gilmore
@GlenGilmore
Digital marketing expert Glen Gilmore's Twitter feed is full of social media insight, news and ideas on strategy. Gilmore, who is a practicing lawyer, heads up social media marketing company the Gilmore Business Network, which was founded in 2009. He also teaches at Rutgers University as an adjunct professor, lecturing on law and privacy in social media and digital marketing. In 2012 Gilmore was listed seventh on Forbes' Top 50 Social Media Power Influencers list. He has also been described as a "man of action" by TIME, and following the 2001 "Amerithrax" attacks, The New York Times dubbed him a "national hero" for the role he played during the event.
8. Richard Florida
@Richard_Florida
Richard Florida is Professor of Business and Creativity at the University of Toronto's Rotman School of Management and has been described as possibly "the world's most influential living urban theorist" by the National Post. The New Jersey-born economist is perhaps best known for his "creative class" socioeconomic concept: according to Florida, the people in the social group he describes can positively impact urban regeneration. The system he developed to rank cities includes criteria like "gay" and "diversity" indexes. Perhaps unsurprisingly, Florida's theories have been both commended and criticized, and in 2011 his Twitter feed made TIME's 140 Best Twitter Feeds list.
7. Michio Kaku
@michiokaku
Charismatic theoretical physicist, author and television personality Michio Kaku describes himself as a "famed futurist." And in view of his New York Times bestselling books, Physics of the Impossible and Physics of the Future, as well as his work with broadcasting outlets like the BBC, the Discovery Channel and the Science Channel, Kaku's self-description is hard to dispute. A former lecturer at Princeton University, Kaku was awarded his Ph.D. from Berkeley in 1972. At present, he is the City College of New York's Henry Semat Professor of Theoretical Physics. He keeps his "tweeps" updated about his media appearances and lectures, so followers can catch up with him on television and in person.
6. Lawrence Lessig
@Lessig
High-profile political activist Lawrence Lessig is the director of Harvard University's Edmond J. Safra Center for Ethics as well as the current Roy L. Furman Professor of Law. In 2001, with the help of fellow scholars Hal Abelson and Eric Eldred on top of the Center for the Public Domain, Lessig founded non-profit organization Creative Commons. Lessig's activist-slanted tweets tend to touch on subjects such as free software, copyright concerns and his own calls for a "free culture." His Twitter profile was included on TIME's 2013 list of 140 Best Twitter Feeds. "When Internet culture and the legal system collide, you're bound to find Harvard professor and political activist Lawrence Lessig near the action," said the magazine.
5. Nouriel Roubini
@Nouriel
A Turkish-born American with Iranian roots who was raised in Italy, economist Nouriel Roubini has an interesting outlook on life. In 2006 the self-proclaimed "global nomad" correctly predicted that the U.S. housing bubble would soon burst and that the world would slide into recession – which alone arguably makes his tweets required reading. The former U.S. Treasury and International Monetary Fund adviser also founded international consulting firm Roubini Global Economics in 2004, and he currently lectures at New York University's Stern School of Business as a professor of economics and international business. With his economic foresight, Roubini has become a major player in global economic discussion and one of the world's most highly regarded thinkers.
4. James Hirsen
@thejimjams
Before embarking on a career as a law professor, columnist, news analyst and best-selling author, James Hirsen plied his trade as a musician, most notably playing keyboards for '60s pop group The Temptations. Currently, he is an adjunct professor of journalism at Southern California's Biola University, where he lectures on law and ethics. As a pundit for conservative U.S. news site NewsMax, Hirsen also light-heartedly dissects the politics of Hollywood with his weekly article "The Left Coast Report." Hirsen's rapid-fire tweets are mostly a mixture of current affairs and entertainment stories; he's one to follow for anyone who likes to keep up to date with the latest news.
3. Cornel West
@CornelWest
Outspoken public intellectual Cornel West made history in 1980 as the first African American to earn a philosophy Ph.D. from Princeton. West describes himself as a "champion for racial justice," and his tweets are a blend of philosophy, social equality and his passion for jazz and blues. In the mid '90s West returned to Harvard – where he'd earned his bachelor's degree in 1973 – and taught an extremely popular African American Studies class. Then in 2002, after publicly falling out with then Harvard president Lawrence Summers, he left the university and accepted a position at Princeton. West retired from Princeton in 2011 and became Professor of Philosophy and Christian Practice at Union Theological Seminary in the City of New York. Interestingly, he also made appearances in both sequels of The Matrix.
2. Paul Krugman
@NYTimeskrugman
With over a million "tweeps" not to mention a Nobel Prize on his mantelpiece, it's safe to say that U.S. economist Paul Krugman is a pretty renowned professor. Well known as a columnist for The New York Times, Krugman is also a professor of economics at Princeton University, Centenary Professor at the London School of Economics and one America's most important academics. Still, notwithstanding his legion of followers, Krugman's Twitter account is all business, automated to post regular links to his various online work. "Krugman isn't rejecting Twitter. He's just using it extremely efficiently," wrote The Washington Post's Ezra Klein in 2013.
1. Brian Cox
@ProfBrianCox
English physicist Brian Cox is arguably the hippest professor in academia. Known for his stylish, indie rock look, Cox has hosted various BBC television shows, making subjects like astronomy and physics cool and fascinating to a whole new audience of budding intellectuals. He's also a Royal Society University Research Fellow and a PPARC Advanced Fellow at the University of Manchester – where he'd previously achieved his bachelor's degree, M.Phil. and doctorate in physics. What's more, he is part of the university's particle physics team, which is involved with CERN's Large Hadron Collider experiment. Interestingly, Cox played keyboards for '90s pop band D:Ream. Today, he has more than 1.2 million followers on Twitter.